Upper Corner Canyon Road to Jacobs Ladder Trail - Salt Lake County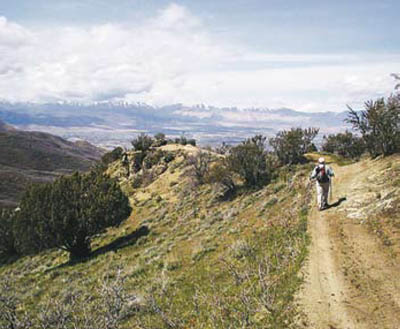 From the parking area, start on the Upper Corner Canyon Road. The road climbs gently as it heads south for the canyon. Enjoy the beautiful views of the Salt Lake Valley. The junction for Bonneville Shoreline Trail is 1.2 miles in. Stay on the road. Just ahead, a spring tumbles under the road from a ravine and the road heads into the canyon. At 2.7 miles watch for a rutted trail on the left. This is the Jacobs Ladder Trail, but itís not posted. Make your way up the steep hillside. Soon you come to a trail split at the top of the hill, go right on the unposted trail. The trail stays on the spine of the hill, headed for the ridgeline. Utah Lake appears suddenly at the ridgeline and Utah Valley opens below. Box Elder Peak, Mount Timpanogos, Mount Nebo, Utah Valley and part of the Salt Lake Valley are all visible. In summer the gated road at Orson Smith is open and you can drive on the Upper Corner Canyon Road, close to the Jacobs Ladder trailhead.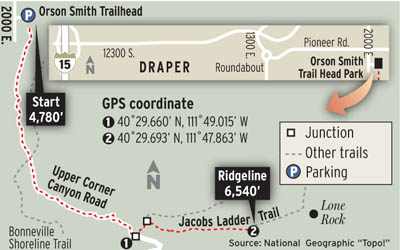 Getting there: From Interstate 15, take the 12300 South exit. Head east on 12300 South to 1300 East. At 1300 East go right (south) to the roundabout. Take the last spur on the roundabout for Pioneer Road. At 2000 East go right (south). Park at the Orson Smith Trail Head Park.
-- - Photo, text and graphic by Steve Baker (baker@sltrib.com)
Region: Wasatch Canyons
Destination: Ridgeline
Distance: 8 miles
Time: About 5 hours
Elevation Gain: 1.760
Dog Allowed: Yes, on leash
Restrooms: Yes
Biking: Yes, road
GPS Location: 40.4963384, -111.7940981
Difficulty: 5
First published 2007-05-03