Ghost Falls North & South Trails - Salt Lake County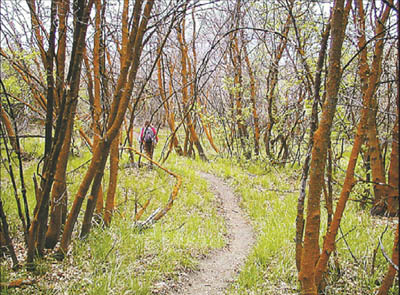 Description: From the parking area, start on the Upper Corner Canyon Road. The road climbs gently on the shadeless hillside as it heads south for the canyon. Enjoy the beautiful views of Draper and the Salt Lake Valley. At 1.2 miles in, you come to the junction for the Bonneville Shoreline Trail. Go right and leave the road for the trail. As you approach the canyon and before the trail drops to the canyon floor, take the second trail on the left for Ghost Falls. Trail isnít posted. The trail drop into the trees and crosses the creek. After crossing, stay to the right, where the trail loops back around, heads uphill and follows near the creek on the southside. Watch for a trail split on the left that crosses the creek and take it. About 2.5 miles in you come to Ghost Falls. Just past the falls is a trail split on the left. Take this trail to the overlook. Enjoy the canyon view at the overlook, backtrack down and go left at the junction. You are now on the Ghost Falls South Trail. There are a lot of trails in this area, so explore and continue down the canyon to the Shoreline Trail, completing your loop. During Summer, the Upper Corner Canyon Road is opened at Orson Smith. Drive to the overlook and start hiking down into the canyon.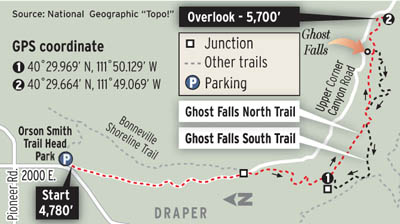 Getting there: From Interstate 15, take the 12300 South exit. Head east on 12300 South to 1300 East. At 1300 East go right (south) to the roundabout. Take the last spur on the roundabout for Pioneer Road. At 2000 East go right (south). Park at the Orson Smith Trail Head Park.
-- Photo, text and graphic by Steve Baker
Region: Wasatch Canyons
Destination: Overlook
Distance: 6.2 miles
Time: 4 to 5 hours
Elevation Gain: 920 feet
Dog Allowed: Yes, on leash
Restrooms: Yes
Biking: Yes
Difficulty: 3
First published 2007-05-17