North Canyon Trail - Davis County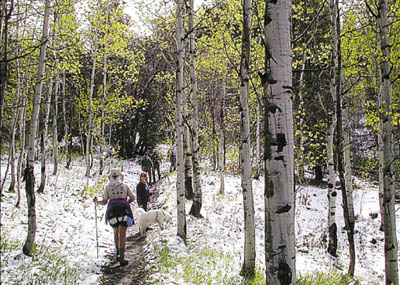 The trail starts on a private dirt road at the end of Canyon Creek Drive, which is open to the public to access the trailhead. Please stay on the road. At 1.2 miles, the road ends and the trail starts. Boulders block the road and the trail is posted. Less than 1⁄4 mile from the boulders, the trail turns left and switchbacks into aspens. After the third switchback, the trail smooths out and you come to an area with footbridges. Stand on a footbridge and take in the view of a tranquil creek. The trail leaves the creek and traverses around the mountain for canyon views at 2.6 miles. As you look down North Canyon, you see Antelope Island in the Great Salt Lake and the trail heads into another aspen grove. As you leave the aspens, mountain mahogany trees stand guard on the ridgeline. Near the ridgeline, leave the main trail and take the turn-off trail for the ridge. As you top the ridge, enjoy great views of City Creek Canyon and the Salt Lake Valley. Back on the main trail, hike over to Rudy's Flat and take a break among the conifers. Mountain bikers love this trail too, so be aware of them.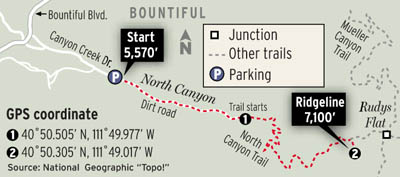 Getting there: From Orchard Drive in Bountiful, make your way east to Bountiful Boulevard (about 3500 South). Turn east on Canyon Creek Drive and drive to the end. Start hiking on the dirt road.
-- - Photo, text and graphic by Steve Baker (baker@sltrib.com)
Region: Northern Utah
Destination: Ridgeline
Distance: 6.8 miles
Time: 4 to 5 hours
Elevation Gain: 1,530 feet
Dog Allowed: Yes
Restrooms: No
Biking: Yes
GPS Location: 40.8627231, -111.8802151
Difficulty: 5
First published 2007-05-31