Battle and Grove Creek Trails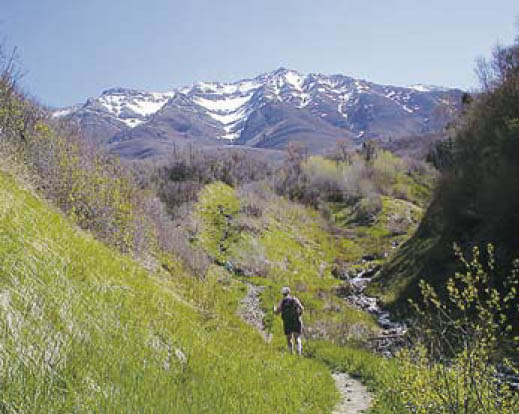 Mount Timpanogos is the first thing you see after passing through the gate. Less than half a mile later, the road ends and the trail starts on the south side of the creek. Cross over a footbridge to the north side and start a steep climb, with drop-offs. Watch for bighorn sheep on the rocky ledges above Battle Creek Falls at 0.63 miles. After the waterfall, the trail mellows out along the creek, crossing a log footbridge. Cross the creek one more time, leave it and stay high above it as you enter scrub oaks. The oaks lead you into a series of grassy meadows – check out the beautiful views behind you. At 2.46 miles you come to the trail junction for the Great Western Trail; go left. Hiking through another series of meadows, you arrive in the largest one, Grove Creek Junction at 3.4 miles. It's all downhill as you enter an aspen grove and then Grove Creek Canyon. You pass by a spring and Indian Campground. The trail drops to the Grove Creek Waterfall. Sit on the bench and enjoy the view. The trail from the waterfall has dangerous drop-offs and loose rock on the upper section. When you arrive at the Grove Creek parking area, hike down to the creek behind the restroom and follow the dirt road back to the Battle Creek Trailhead, completing your loop.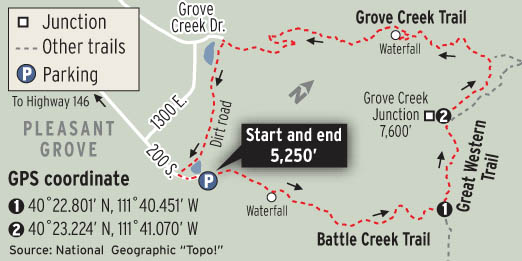 Getting there: On Highway 146 in Pleasant Grove, go east on 200 South. The road leads into Battle Creek Canyon and parking area.
-- - Photo, text and graphic by Steve Baker (baker@sltrib.com)
Region: Central Utah
Destination: Meadow
Distance: 8.5 miles
Time: 5 to 6 hours
Elevation Gain: 2,350 feet
Dog Allowed: Yes, on leash
Restrooms: Yes, Grove Creek
Biking: No
GPS Location: 40.3624521, -111.7210387
Difficulty: 5
First published 2007-06-07