Great Western Trail to Big Mountain - East Canyon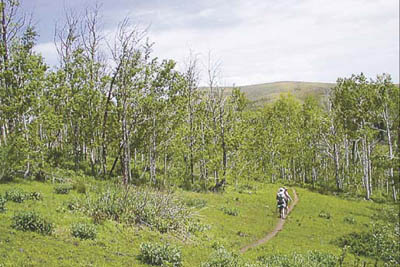 The trail starts at the parking area on Big Mountain Pass. Hike across the highway to the post marked "Great Western Trail." A series of switchbacks starts in aspens and the trail opens quickly to the sunny side of the mountain. From the clearing, hikers can see the parking area and enjoy views of East Canyon. The trail reverses west, then switchbacks up to the ridgeline about half a mile into the hike. The trail smooths out in the trees. Leave this ridgeline and traverse around the hillside heading north. From the hillside, the trail winds through small shrubs and you catch the next ridgeline as you make your way up. The trail straddles the gentle ridge, and hikers are rewarded with views to the east and west. At the top of the ridge, the trail drops down slightly. At about a mile and a half, you enter an aspen grove. This relaxing section gives relief from the sun. Near the center of the grove, you come to a large open meadow and your first glimpse of Big Mountain. As you leave the aspens, the trail stays on the west side of Big Mountain. Watch for the side trail heading to the top. Enjoy the spectacular view.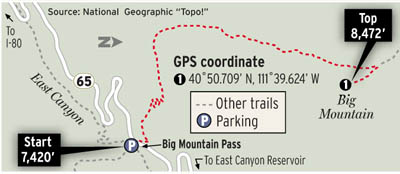 Getting there: From Interstate 80, take Highway 65 to East Canyon. It's about nine miles to Big Mountain Pass and parking area.
-- Photo, text and graphic by Steve Baker
Region: Wasatch Canyons
Destination: Big Mountain
Distance: 5 miles
Time: About 4 hours
Elevation Gain: 1,052 feet
Dog Allowed: No
Restrooms: Yes
Biking: Yes
GPS Location: 40.8452243, -111.660485
Difficulty: 3
First published 2007-06-21