Five lakes loop at Brighton - Big Cottonwood Canyon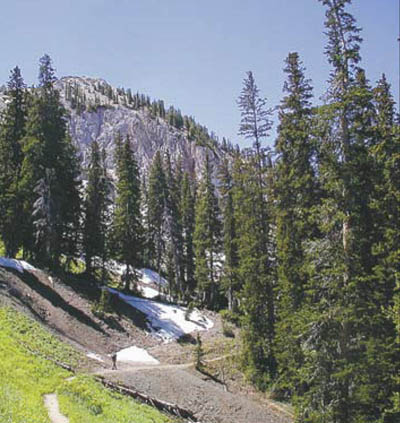 The trail starts at Silver Lake Visitor Center. Take the boardwalk on the south side heading southwest and follow the trail around to the north side of the lake. At the first junction, go left for Twin Lakes. The next junction comes quickly; go left again. You leave the conifers and the trail becomes steeper in the aspens. After the boulder field, with great views of Silver Lake, the trail heads towards the chairlift and then to the dam and the second lake, known as Twin Lakes. Leave the lake and head back to the chairlift. Take the trail south from the chairlift, for the service road. At the road, go right. The steep road takes you on the other side of the dam. Watch for the trail just south of the damís rim. From the dam the trail drops across a lower boulder field of Mount Millicent. You leave the boulders and switchback into the conifers for your third lake, Lake Mary. You arrive on the northeast side of the lake and follow the trail past a cabin. From the cabin the trail takes you below the dam and up to the other side of it. At 2.7 miles in, Lake Mary is beautiful place to take a needed break. When leaving, use caution on the rocky outcrop near the lake. You pass by your fourth lake, Lake Martha. Take the side trail to visit the lake, than continue back on the main trail. You arrive at your final lake, Lake Catherine, at four miles into the hike. When you arrive back at the Lake Mary dam, follow the trail below the dam, next to the creek. You cross a footbridge to a trail junction. Go left and the trail drops into a meadow and heads for the Brighton Center. Hike on the road back to Silver Lake Visitor Center.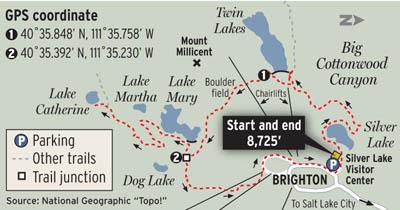 Getting there: Drive to the top of Big Cottonwood Canyon and park at the Silver Lake Visitor Center at Brighton. Start hiking on the south side of the boardwalk heading southwest.
-- Photo, text and graphic by Steve Baker
Region: Wasatch Canyons
Destination: View lakes
Distance: 6.7 miles
Time: About 5 hours
Elevation Gain: 1,205 feet
Dog Allowed: No
Restrooms: Yes
Biking: N/A
GPS Location: 40.5966179, -111.5874208
Difficulty: 5
First published 2007-07-19