The Canyons Resort trails - Summit County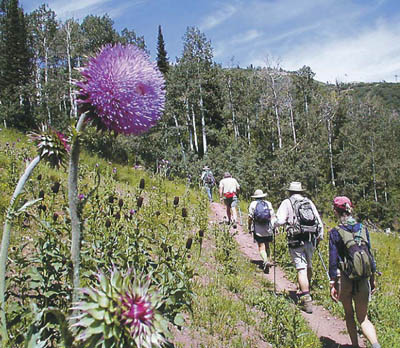 From the plaza, head north and go up the stairs on the north side of Smokey's Bar and Grill. Start hiking north on the service road behind the restaurant. Most of the trails are used by mountain bikers, so watch for them. From the road, you will see a trail sign for the Holly Trail; go left. Soon you come to a trail split. Go right for the Holly's Up Trail. You come to the service road, follow the road through the gate. From the gate, watch for the Holly's Up Trail on the right side. You cross a creek and start a series of switchbacks to a trail junction. At the junction, go left. The trail follows above the service road, with little shade through the scrub oaks. At 1.8 miles, the trail drops back to the service road, crosses to the other side and heads over the creek and into the conifers. You leave the trees as the trail goes into a drainage, then quickly switchbacks away for the Ambush Trail at 2.46 miles. Go left. When you arrive at the next service road, go to the left and head downhill toward the Sun Peak Express lift. Hike around the bottom of the lift and catch your next trail up -- Holly's Downhill Trail. The trail switchbacks away from the lift and goes in and out of the conifers. At 4.7 miles you arrive at the highest point on the hike, the Mid Mountain Trial. Take the service road right and look for the trail heading downhill on the left. You can see Red Pine Lodge to the south as the trail drops toward the creek. At the creek, the trail switchbacks over to Red Pine Lodge. Take the gondola down and enjoy the view. * Flight of the Canyons Gondola is open Thursdays-Sundays 10 a.m. to 4 p.m. * At times sheep are grazing. Avoid herd dogs, which can become aggressive. * Gondola costs $12 if you ride up, or free if you hike up and ride it down.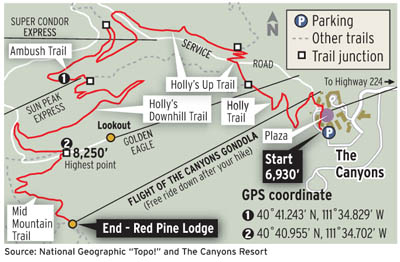 Getting there: From Interstate 80, take the Kimball Junction exit for Highway 224, south to Park City. Drive 2.7 miles and turn right at The Canyons Resort Drive. Park in the gravel parking area next to the Sundial Lodge. Pick up a free trail map, at Canyon Mountain Sports on the plaza.
-- Photo, text and graphic by Steve Baker
Region: Northeast Utah/ Uintas
Destination: Red Pine Lodge
Distance: 5.4 miles
Time: 3 to 4 hours
Elevation Gain: 1,320 feet
Dog Allowed: Yes, on leash
Restrooms: At plaza
Biking: N/A
GPS Location: 40.685257, -111.556375
Difficulty: 3
First published 2007-08-09