Highline Trail to Packard Lake - Uinta Mountains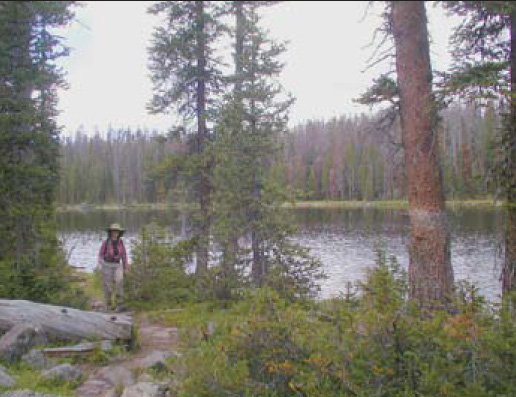 At the parking lot, check out the trails map on the bulletin board to become familiar with the area. The trail drops at the beginning and at 1.25 miles you come to a sign letting you know that your are now entering the High Uinta Wilderness. The trail levels out near the sign and follows a large meadow. Leaving the meadow, the trail gently climbs and you come to the junction for Scudder Lake. Go right and follow the trail down to visit the lake, then head back to the Highline Trail. Continuing along the gentle trail you come to the next large meadow. Looking across the meadow is Hayden Peak. The trail begins to climbs, crests, then drops to the trail junction for Packard Lake at 2.75 miles. Go right, taking the Wilder Lake Trail for the three lakes. The trail drops and you arrive at the lowest point on the hike, Wilder Lake. The trail climbs away from the lake, crests the hill, then drops into a long narrow meadow. At the meadow, the trail smooths out for Wyman Lake, then continues south for Packard Lake. As you near Packard Lake, a surprising view beckons to be seen first through the trees. Leave the trail for a moment and stand near the cliff walls of a huge drainage. Peering into the wilderness and feeling small, is the East Fork drainage. After taking in the view, head back to the trail for Packard Lake and do some relaxing in the wild Uintas.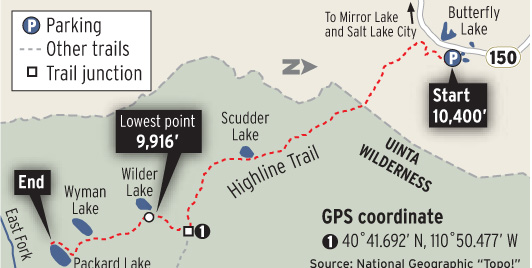 Getting there: Take the The Mirror Lake Highway, SR 150. From the summit, contiune driving north, past Mirror Lake and The Butterfly Campground. Just past the campground, watch for the Highline Trail post on the right side of the highway.
-- Photo, text and graphic by Steve Baker
Region: Northeast Utah/ Uintas
Destination: Lakes
Distance: 8.2 miles
Time: 4 to 5 hours
Elevation Gain: 484 feet
Dog Allowed: Yes
Restrooms: Yes
Biking: No
GPS Location: 40.6818903, -110.8365579
Difficulty: 3
First published 2007-09-13