Ridge Trail 157 loop - Utah Wasatch Counties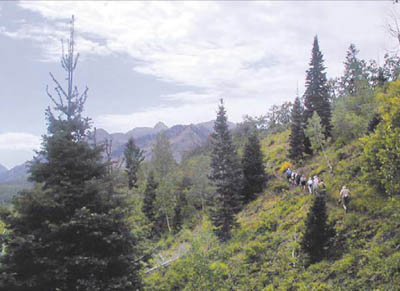 From the parking area, start hiking on the Lame Horse Trail. About 100 yards up the trail you come to a junction; go left for South Fork Deer Creek Trail 252. The trail heads downhill in aspens and quickly comes to a three-way paved road. Cross over the far right road and take trail 252 down the South Fork drainage. You enter a series of meadows and cross a footbridge near the bottom. From the bridge you come to a gravel road. Go left for the highway. Cross the highway and the unmarked trail continuing on the other side. This is the lowest section of the loop hike and the trail heads up in a sagebrush meadow. You leave the brush quickly for aspens. The trail meanders through the aspens, then scrub oaks and a beautiful conifer forest take you to the ridgeline. You come to the posted trail junction. Take Ridge Trail 157, which is the far left trail, and stay on the ridgeline. If you have time, go right on the ridge and explore the spectacular views, then head back to the junction and continue on the loop trail. You reach the highest point about 4.2 miles into the hike, then the trail drops to a meadow and the junction for Mud Springs. Go left. The trail opens to a view down American Fork Canyon and majestic Mount Timpanogos. At the next trail junction, stay to the left and continue on Ridge Trail 157, which brings you back to the parking area.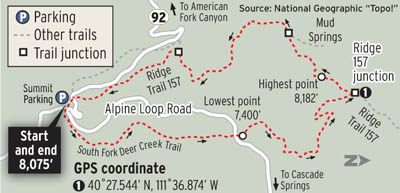 Getting there: From Highway 92 in Utah County, drive up American Fork Canyon until the road forks. Take the right fork (Alpine Loop Road) and drive to the Summit Parking, at the summit. Start hiking on the Lame Horse Trail.
-- Photo, text and graphic by Steve Baker
Region: Central Utah
Destination: Loop views
Distance: 6.2 miles
Time: 4 to 5 hours
Elevation Gain: 782 feet
Dog Allowed: Yes
Restrooms: Yes
Biking: Yes
Difficulty: 3
First published 2007-10-04