Ogden Canyon Overlook Trail - Weber County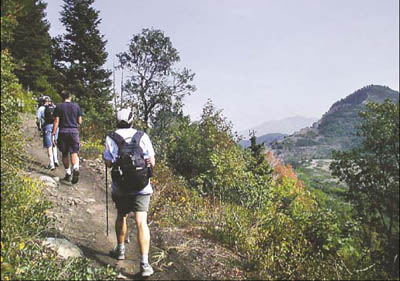 From the parking area, walk around the gate and start hiking on the Maples Road. The road passes through a large meadow and marsh area. On the other side of the meadow is a trail junction. Stay on the road and hike past the old campground bulletin board and into another large meadow with a trail running through it. Leave the road for the trail. On the other side of the meadow, through the trees, you come to the post for the Ogden Canyon Overlook Trail. The trail meanders through oaks and aspens as you make your way up to the ridgeline. The trail also is popular with mountain bikers, so watch for them. About 1.3 miles into the hike, the trail opens into scrub oaks, with views of Snowbasin. At 2 miles in, you arrive at the ridgeline. Take a break and follow the trail to the left. From the ridgeline, the trail enters tall conifers, switchbacks twice and ends at the overlook. The overlook is a peninsula that overlooks the city of Ogden, Ogden Canyon and Cold Water Canyon.

Getting there: Take Interstate 15 north from Salt Lake City. Exit on Interstate 84 east to Mountain Green. Take to Highway 167 (Trapper's Loop). Follow Snowbasin Ski Area signs from Trapper's Loop. Drive past the main lodge and park on the far side of Parking 2, near the gated Maples Road.
-- Photo, text and graphic by Steve Baker
Region: Northern Utah
Destination: Overlook
Distance: 5 miles
Time: 3 to 4 hours
Elevation Gain: 810 feet
Dog Allowed: Yes
Restrooms: No
Biking: Yes
Difficulty: 3
First published 2007-10-18