Thaynes Canyon loop - Mill Creek Canyon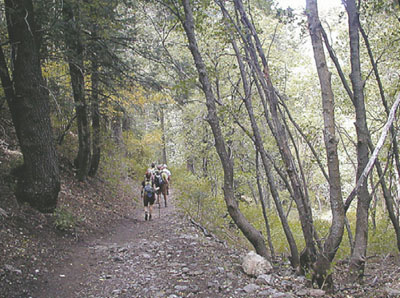 At the junction near the start of the hike, go right for the Desolation Trail. The trail zigzags through the Mount Olympus Wilderness in a forest of conifers. At 0.87 miles into the hike, you come to an unmarked junction. Take a sharp right up and over the rocky outcrop to follow the faint trail over the rocks. Donít take the trail down to the Thaynes Canyon drainage. The trail turns west, toward Mill Creek Canyon. After a series of switchbacks, you arrive at the Salt Lake Valley Overlook, which is 2.4 miles into the hike. The overlook has a crest of rocky ridges, and the trail continues southeast. You eventually come to the Thaynes Canyon Trail junction at 3.7 miles into the hike. Itís all downhill as you start a steep descent down the canyon drainage. After you cross the creek, the trail becomes more relaxed. You arrive back at the first trail junction, completing your loop. Dogs in Mill Creek Canyon: Salt Lake County requires dogs be leashed in the entire canyon on even-numbered days. They are allowed unleashed on odd-numbered days, except in developed areas.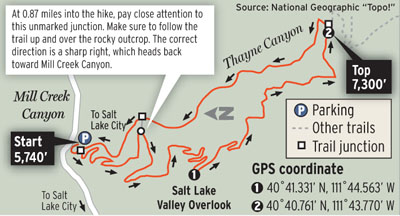 Getting there: From the fee station in Mill Creek Canyon, itís 2.5 miles to the trailhead. The trail and parking lot are just east of the Mill Creek Inn on the south side of the road.
-- Photo, text and graphic by Steve Baker
Region: Wasatch Canyons
Destination: Loop views
Distance: 5.75 miles
Time: 4 to 5 hours
Elevation Gain: 1,560 feet
Dog Allowed: Yes
Restrooms: Yes
Biking: N/A
GPS Location: 40.6610615, -111.5224193
Difficulty: 5
First published 2007-11-01