Escalante River Trail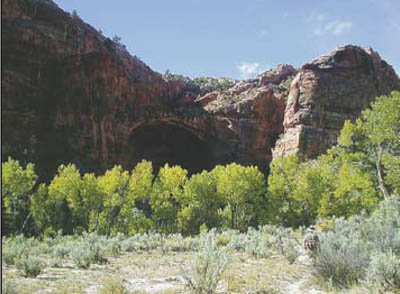 Before you start your adventure, check for possible flash flood conditions on the Calf Creek Campgound bulletin board. At the trailhead, fill out the register before starting the trail toward the Escalante River. To do this hike you have to be willing to wade shin-deep into the river. During normal flows, the river is shallow. Don't do this hike if the water levels are unsafe. To start, cross the river and hike along the sandy trail through sagebrush, rabbit brush, cactus, tamerus and cottonwood trees. About two miles into the hike, cross the river for the fourth time and the trail turns toward the cliff wall of Escalante Natural Bridge. The trail crosses the river near the natural bridge. On the other side, look for the side path that leads under it. The arch spans the red rock alcove at a height of about 130 feet and a length of about 100 feet. After taking in the beauty of the bridge, continue on the trail for another half mile. Somewhat hidden is a cliff dwelling nestled high on the wall. At the base of the cliff, ancient indians left beautiful petrographs for us to enjoy. Leave only your footprints at the gallery and continue on to view the arch. Like a window in the sky, the arch is pearched on top of the cliff wall and overlooks the Escalante River.


Getting there: From Escalante, drive 15 miles east on Highway 12. After you cross the bridge over the Escalante River, look for the trailhead on the left alongside the river.
-- Photo, text and graphic by Steve Baker
Region: Southern Utah
Destination: Natural Bridge
Distance: 5 miles
Time: 3 to 4 hours
Elevation Gain: 95 feet
Dog Allowed: Yes
Restrooms: No
Biking: N/A
GPS Location: 37.2894367, -110.8720931
Difficulty: 1
First published 2007-11-15