Little Wild Horse and Bell Canyon trail loop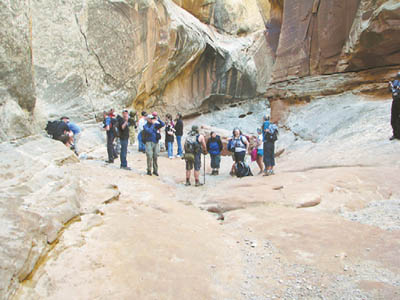 From the parking lot and trailhead walk several hundred yards to an entrance near the canyon where you can climb over a boulder or skirt along a shelf to enter. Just inside, a sign greets hikers pointing them to the right for Little Wild Horse Canyon and left for Bell Canyon. Going right, you snake along a red sandy trail through tall purple and white cliffs. At 1.1 mile you enter a tight, cool, slot canyon. Some areas through this section narrow to only about 2 feet and can contain pockets of water. A short scramble is required over a second boulder. About a half mile later, you enter a shorter, wider slot canyon with a third rock scramble. Enjoy the shade. The trail soon grows wider and meanders through more white-walled cliffs under direct sunlight. Make sure to wear a hat and sunscreen. At 3.8 miles hang a soft left at the sign for Bell Canyon. For the next two miles or so you will walk along an OHV trail and gain several hundred feet of elevation. Look to your right at mile 5.5 and you will see an old mining cabin. It is about a half mile to the entrance of Bell Canyon from there. Entering Bell Canyon, the trail is wider and less spectacular then the slots of Little Wild Horse Canyon, but still beautiful with gold and white pock-marked walls. After about two miles, you will return to the junction that separates the two canyons. Continue back to the trailhead and parking lot. This hike is not strenuous, but feels long because of slow going on the sandy trail. Bring lots of water, especially since direct sunlight falls on much of the trail in the afternoon. Fees: None Suggestion at trailhead: Don't bring dogs. The rock and soil are very abrasive and bloody their paws. There are rocks and boulders which they must be carried over.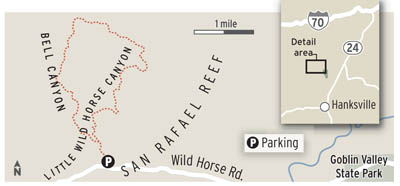 Getting there: From Little Wild Horse Canyon road entrance, drive 5.4 miles on a dirt road. Entrance is on right. Trail is posted.
-- Photo and text by Jason Bergreen, graphic by Amy Lewis/The Salt Lake Tribune
Region: Southeast Utah
Destination: Slot canyons and loop views
Distance: 8.3 miles
Time: 4-5 hours
Elevation Gain: 718 feet
Dog Allowed: Not recommended
Restrooms: Yes
Biking: No
GPS Location: 38.5038695, -110.8448761
Difficulty: 5
First published 2008-05-15