The Living Room and nearby ridgeline loop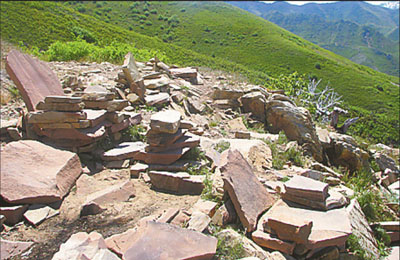 From Colorow Road, head east into the hills above the University of Utah; cross the shoreline trail to Skyline Nature trail. At the posted sign, take the well-groomed path north and east before climbing several easy switchbacks. At 0.6 miles, you will see an old house below on the left. Turn right and follow the trail until the 0.8-mile mark, where you will make a sharp left. At the next junction, follow the trail right. You will soon hit a Y, where you can see the antenna and reflectors on Wire Mountain. From here you can go right and down into Georges Hollow to reach Wire Mountain by the usual route. Instead, head northeast and scramble up a short, steep section of rock. The trail is less visible here but not hard to follow. At the 1-mile mark, you reach an area the locals call Finger Rock. Continue northeast along the rocky ridge, where you will do some steep, easy scrambling. At 1.3 miles, you will arrive at the Living Room. Here, thick flat rocks are piled together in several spots to look like a love seat and chairs. Sit down on the orange-colored furniture and enjoy views of the valley, the Great Salt Lake and the Oquirrh Mountains. After a short rest, scramble north and east over rocks and and through short, green brush. Another makeshift couch can be found near the 1.4- mile mark. At 1.6 miles, you reach the ridge top. Continue east along the rocky ridge. On your left, check out the valley below and Red Butte reservoir. There are some steep drop-offs here, so walk cautiously. At the 2-mile mark, you hit the steepest part of the hike at 6,624 feet. From here, head south down to a saddle that connects with the upper reaches of the trail to Wire Mountain. Instead of going up, head southwest down through scrub oak, yellow flowers and trees. The last 2.1-mile hike down follows some straight sections and S turns, which return you to the Skyline Nature trail and the parking area.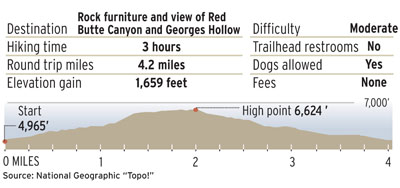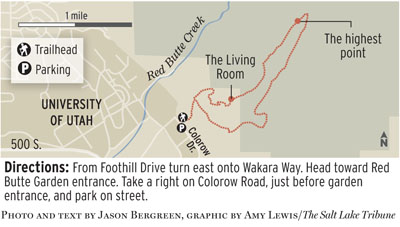 Getting there: From Foothill Drive turn east onto Wakara Way. Head toward Red Butte Garden entrance. Take a right on Colorow Road, just before garden entrance, and park on street.
-- Photo and text by Jason Bergreen, graphic by Amy Lewis/The Salt Lake Tribune
Region: Wasatch Canyons
Destination: Rock furniture and view of Red
Distance: 4.2 miles
Time: 3 hours
Elevation Gain: 1,659 feet
Dog Allowed: Yes
Restrooms: No
Biking: N/A
Difficulty: 3
First published 2008-06-05