Bells Canyon waterfalls - Wasatch Mountains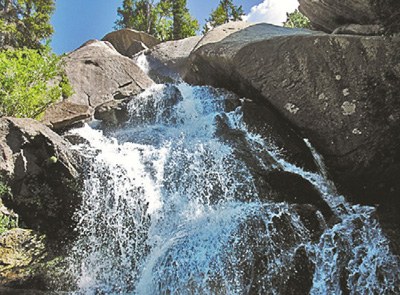 This hike departs suburban Utah and takes you into beauty created by mountains and streams. From the parking lot, take the stairs past a few houses and private property. At about 0.5 miles, you will reach a reservoir. Stay to the left, walking past the reservoir, and you will find a sign pointing to the trail. Follow the sign and you will leave the sagebrush for aspen and pine. The trail will become steep and rocky. At 1.9 miles, you will cross a footbridge. A few hundred yards later, the trail forks to the left. Take that fork and you will quickly find the lower waterfall. To reach the second waterfall, return to the main trail, go about another 0.6 miles to a half-buried boulder the size of a house. At the top of that boulder, you will find another fork to the left. Follow it a short distance and you will find the second waterfall. Destination: This hike features two waterfalls within a 4 1/2-hour hike on the trail. (You may find more falls if you're equipped to leave the trail and follow the creek.) The lower waterfall is the more scenic of the two.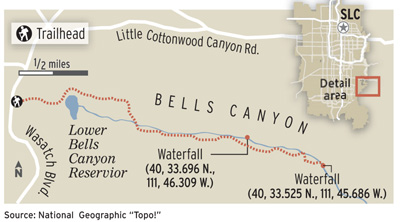 Getting there: The trail head is at 10245 S. Wasatch Blvd. in Sandy. From Interstate 215, take the 6200 South exit and turn south. Stay south on Wasatch Boulevard. The trail head will be on your left in a parking lot.
-- Photo and text by Nate Carlisle, graphic by Amy Lewis/The Salt Lake Tribune
Region: Wasatch Canyons
Destination: This hike features two waterfalls
Distance: 5.08 miles
Time: 4.5 hours
Elevation Gain: 2,369 feet
Dog Allowed: No
Restrooms: No
Biking: No
GPS Location: 40.56333, -111.79389
Difficulty: 3
First published 2008-08-21