Cherry Canyon Logging Trail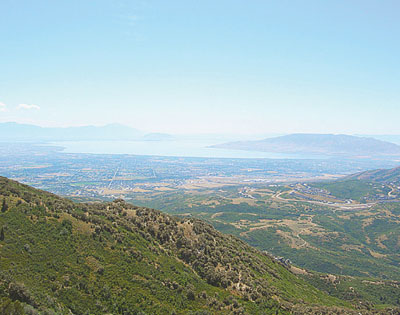 For hikers who want a challenge, head up the stairs to the Bonneville Shoreline Trail. Go left for just under half a mile and make a quick right. Follow the switchbacks. At the fork take a left. Continue following the signs for the Bonneville Shoreline Trail. At the 1 mile mark you hike across a shady bridge over Bear Creek. In about 1/4 mile you will see a sign pointing east that states Cherry Canyon Logging Trail. This is where the hard part begins. For the next three miles or so, you climb steep switchbacks through scrub oak and sage brush. Stop often and rest. There are great views of the Salt Lake Valley and the LDS temple in Draper. At mile 3 you will get your first glimpse of Lone Peak. A few feet away to the south Utah Lake comes into view. Follow the trail east again on somewhat flatter ground. Catch your breath. At 3.4 miles, you continue up the gruelling switchbacks for another half a mile until you reach several large boulders that allow for wonderful views of Utah and Salt Lake valleys. The Corner Canyon fire scarred some of this area last week.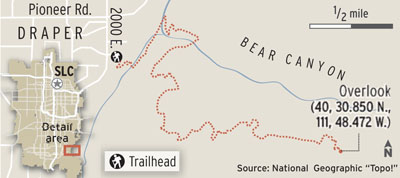 Getting there: Exit Interstate 15 at 12300 South and go east to 1300 East. Make a right at the traffic light and follow the roundabout to Pioneer Road. Head East again until 2000 East in Draper and make a right. Turn left at Orson Smith Trailhead.
-- Photo and text by Jason Bergreen, graphic by Amy Lewis/The Salt Lake Tribune
Region: Wasatch Canyons
Destination: Rocky overlook
Distance: 7.8
Time: 5 hours
Elevation Gain: 3,212 feet
Dog Allowed: Yes
Restrooms: Yes
Biking: N/A
GPS Location: 40.5130047, -111.8388218
Difficulty: 5
First published 2008-08-31