Jardine Juniper trail - Logan Canyon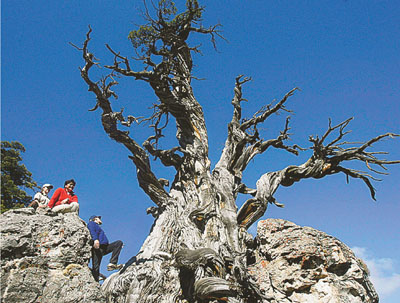 This is one of Utah's most-famous hikes. It ends at the 3,000-year-old Jardine Juniper tree. From the trailhead, you pass through sagebrush meadows. Then at 1.8 miles you reach switchbacks taking you up and over the first ridge. There will be another set of switchbacks up the final ridge. Near the top, at 3.7 miles, you reach a junction. The shady trail is shorter and keeps you out of the sun, while the scenic route gives you a long view of the Cache Valley.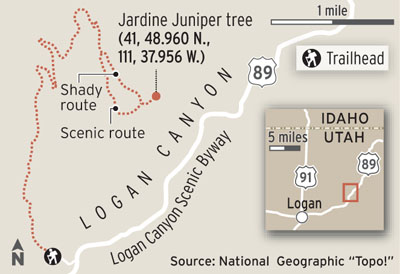 Getting there: From Logan, take U.S. Highway 89 north for about 10 miles. The sign to the trailhead is easy to miss from the highway, but the trailhead is on the west side of the road.
-- Text by Nate Carlisle, graphic by Amy Lewis/The Salt Lake Tribune
Region: Northern Utah
Destination: Jardine Juniper
Distance: 8.8 miles - for shady route
Time: 5 hours
Elevation Gain: 1,637 feet
Dog Allowed: Yes
Restrooms: Yes
Biking: Yes
GPS Location: 41.8160432, -111.6329932
Difficulty: 3
First published 2008-09-12