Thornton Hollow Daniels Canyon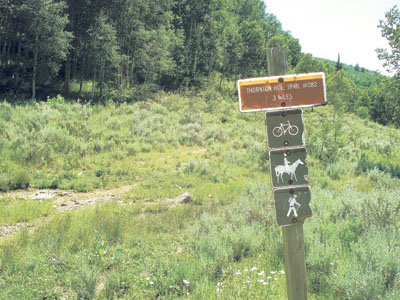 This trail takes you through a narrow canyon with lush, green woods and a creek. The end point is a meadow where sheep range for part of the year. Posted signs say the trail is 3 miles in each direction, but a handheld GPS says it is 2.1 miles. There is a steep elevation gain at the start, then the trail is more gradual. The trail crisscrosses the creek throughout. The creek may be high in the spring. Be prepared to get your feet wet. On the way back, you will have views of Daniels Canyon and mountains to the east. And watch for moose and other large animals on the trail and the ridges.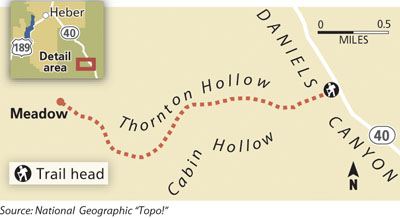 Getting there: From Heber, take U.S. Highway 40 south 12 miles. The trailhead marker is on the west side of the road, just a few feet from the highway. You must park on the highway shoulder. Be careful. Highway 40 is a busy road with fast traffic.
-- Nate Carlisle and Amy Lewis
Region: Wasatch County
Destination: Meadow
Distance: 4.2 miles
Time: 2 hours
Elevation Gain: 1,329 feet
Dog Allowed: Yes
Restrooms: No
Biking: Yes
Difficulty: 1
First published 2009-08-14