Fifth Water (or Hot Pots)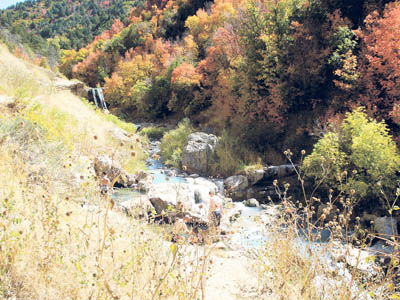 Fifth Water, also known as the Hot Pots, is a favorite spot for nude bathers, but lots of people hike there with children, too. Just be aware of what you might find there with your family or if you bathe nude. (Itís illegal.) From the trail head, follow the path east along the creek. (Do not cross the footbridge next to the trail head.) The hike ascends gently through the forest and provides great colors in the fall. In some spots, the trail is narrow and follows a steep embankment. The trail will take you over a footbridge and then a final ascent to the Hot Pots. There are three sets of pools, all warm but smelling of sulfur. Not far beyond the last pool is a waterfall.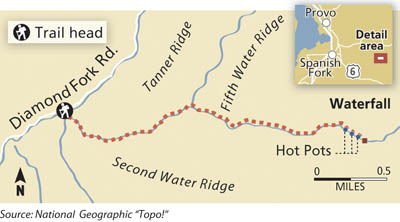 Getting there: From Interstate 15, take U.S. Highway 6 in Spanish Fork east for about 9 miles. From U.S. Highway 89, take U.S. 6 west for 3.4 miles. Turn north onto Diamond Fork Canyon Road. Go about 10 miles to Three Forks. The trail head is in the parking lot.
-- Nate Carlisle and Amy Lewis
Region: Utah County
Destination: Waterfall
Distance: 4.8 miles
Time: 2 hours
Elevation Gain: 652 feet
Dog Allowed: Yes
Restrooms: Yes
Biking: N/A
Difficulty: 1
First published 2009-10-03