Spring Creek Canyon - Iron County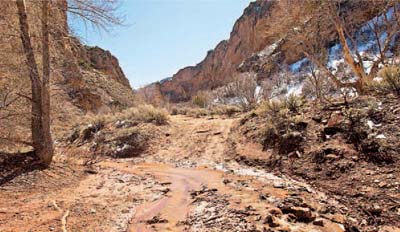 This trail is listed in Best Hikes with Children Utah by Maureen Keilty. Spring Creek Canyon is a wilderness area. There are gray and redrock cliffs and pinyon and juniper woodlands. The creek itself is shallow and narrow in all but the heaviest runoff seasons. The trail mostly runs parallel to the creek and crosses it on several occasions. Be prepared to get your feet wet. The worn trail ends in a slot canyon in the red cliffs. If you plan to continue into the slot, check the flash flood warnings first.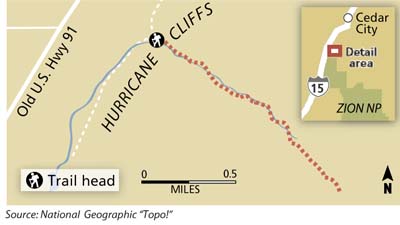 Getting there: From Kanarraville, there is a dirt road on the town's south edge. Follow it east for 0.7miles, past the town's dump, to a parking area. The trail for Spring Creek Canyon is on the left. The trailhead is marked with signs for the wilderness area.
-- Chris Detrick and Nate Carlisle/The Salt Lake Tribune
Region: Iron County
Destination: Spring Creek Canyon
Distance: 2.8 miles
Time: 2 hours
Elevation Gain: 565 feet
Dog Allowed: Yes
Restrooms: No
Biking: Yes
Difficulty: 1
First published 2010-04-18