Capitol Reef: Frying Pan Trail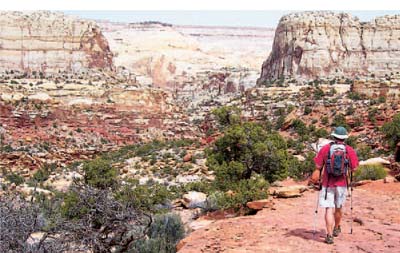 The Frying Pan Trail snakes north away from Cassidy Arch and then west up a hill overlooking the Scenic Drive. The dirt path is littered with rocks and lined by scrub oak. After about a mile, the trail enters a canyon painted red, yellow and white. Continue down northwest along sand and slick rock. When the trail goes over slick rock, carefully follow the cairns, or rock piles, marking the way. At mile 1.6, you will hit a few switchbacks and head down into the bottom of a canyon. You will cross a sandy wash at mile 1.8 and head back up a rocky trail heading northwest. Follow a few rock steps and switchbacks around and over the small cliff. Then head southwest and west down a new section of canyon at mile 2.2. Large volcanic rocks pepper the lower landscape as you enter Cohab Canyon. The trail thins and follows a switchback down the path. You will hit a canyon trail sign, at mile 2.8, head right toward U.S. Highway 24. Follow the trail northeast down about half a mile to the road where you have left a second vehicle to pick you up. If you only have one car, hitchhiking back to your vehicle is not difficult.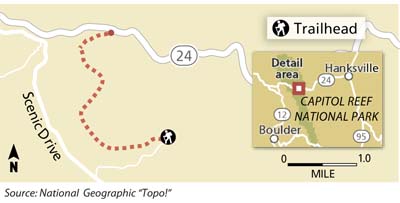 Getting there: The Frying Pan Trail veers from the path that leads to Cassidy Arch. Take the Scenic Drive from the Capitol Reef National Park visitor center until you reach the parking lot for Cassidy Arch trailhead.Take the trail up until you reach the beginning of the Frying Pan Trail, about .5 miles from the arch. A sign marks the start. Or, from the visitor center, travel east on U.S. Highway 24 for about three miles to Grand Wash.Park and hike up the wash about two miles to the Cassidy Arch Trailhead and head up from there.
Region: Capitol Reef National Park
Destination: Cohab Canyon
Distance: 3.2 miles
Time: 2 hours 15 minutes
Elevation Gain: 5,320 (low), (high) 6,458 or (start) 5,989, (end)
Dog Allowed: No
Restrooms: Yes
Biking: No
Difficulty: 3
First published 2010-05-02