Corona and Bowtie arches -- Moab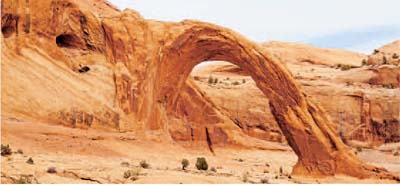 Here's a chance to check out two arches without having to pay national park fees or fight a crowd. From the trailhead, the gravel and boulder path is steep for a short distance, then flattens as it crosses railroad tracks. The well-marked worn path continues on the slickrock. Near the hike's midpoint, a short ladder helps you up a ledge. Corona Arch is the more spectacular of the two arches. As it comes into view and you walk toward it, be looking on your left for Bowtie Arch hiding in the rock wall. You'll also have a view of Bootlegger Canyon.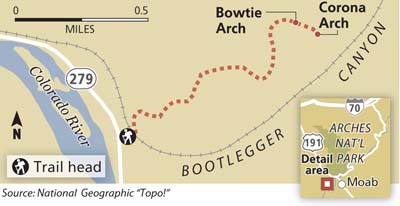 Getting there: From U.S. Highway 191 north of Moab, turn southwest on Potash Road. The road will parallel the Colorado River for about 10miles before arriving at the marked trailhead.
Region:
Destination: Corona and Bowtie arches
Distance: 2.5 miles
Time: 1.5 hours
Elevation Gain: 371 feet
Dog Allowed: Yes
Restrooms: No
Biking: No
Difficulty: 1
First published 2010-05-09