Capitol Reef National Park: Grand Wash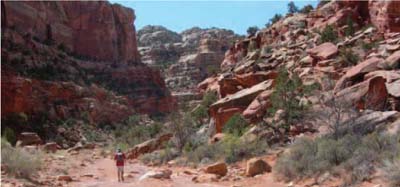 This is an easy, family-friendly, picturesque hike that leads to the start of the Cassidy Arch trail head. The sandy, rocky wash trail is wide for most of the hike. The trail winds through a canyon, which is mostly exposed to the elements but has areas of shade. Scrub oak and small cactus line the trail that winds southwest. There are beautiful red, white and yellow cliffs that tower over the wash. After about 2miles, a sign for Cassidy Arch trail head will appear on your right. There are also restrooms near the trailhead. Head back or head to the arch.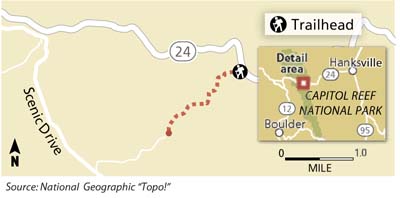 Getting there: From the Capitol Reef National Park visitor center, travel east on U.S. Highway 24 for about 3 miles. The trailhead will have a sign.
Region: Capitol Reef National Park
Destination: Cassidy Arch trailhead
Distance: 4 miles
Time: 2 hours
Elevation Gain: 152 (trailhead) 5,248 (High end) 5,400
Dog Allowed: No
Restrooms: No
Biking: No
Difficulty: 1
First published 2010-05-23