Mollie's Nipple, Pump Ridge, Hobble Creek Canyon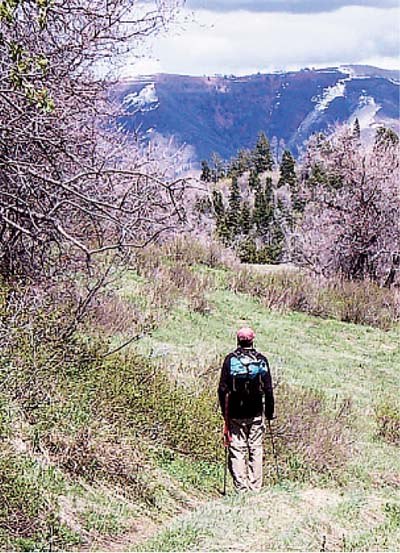 This hike shows off the dramatic topography of Utah and Wasatch counties from the top of Hobble Creek Canyon. Some of it follows a dirt U.S. Forest Service road that's open to ATVs, so be alert. From the gate, walk south on FS Road 115, bending east at 0.4mile and south at 0.75 mile. At 1.2 miles,you will cross a metal grate over the road.Here the forest opens to meadows that should be gorgeous come wildflower season. At 1.7 miles, there is a T-intersection with a good view of Mollie's Nipple. Go right. Pump Ridge is above you on your right. At 3.4 miles, you'll come to the foot of Mollie's Nipple. The trail to the top is closed for revegetation. To your southwest, Wanrhodes Basin is dotted with farms. Turn west here and follow the trail over a small bridge to a gate at the north. This trail is closed to motorized travel and goes over Pump Ridge. About a mile beyond the gate, near the top of the ridge, the trail splits; bear right and descend a half-mile back to FS 115. Take 115 back through the T-intersection and meadow.A quarter mile after the road grate is a path marked "Foot travel welcome." Take it to your left, cutting downhill and rejoining FS 115 after a quarter mile. Follow FS 115 the half mile back to the trailhead. I did this trail with two loops, but you can hike in and out, as indicated on the map, to minimize your ATV exposure.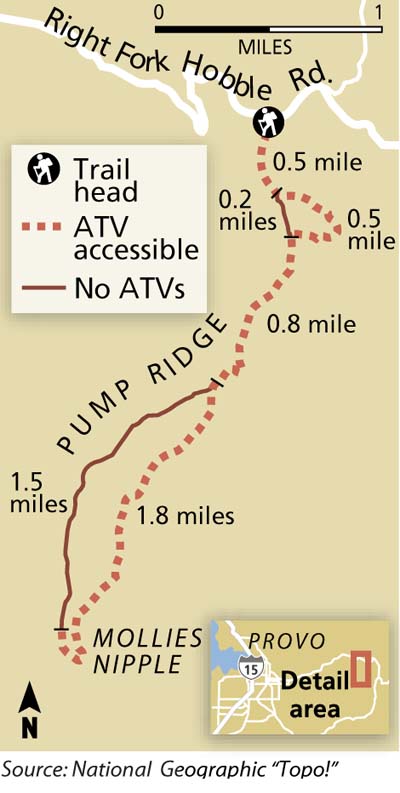 Getting there: From Springville, take Canyon Drive into Hobble Creek Canyon. About 2.5 miles after the reservoir, the road branches; take the right fork. The trailhead is about 11.5 miles up the right branch, 3.8 miles beyond the Balsam Campground. It's labeled as the intersection of FS058 and FS115.
-- ERIN ALBERTY / The Salt Lake Tribune
Region: Utah County
Destination: Mollie's Nipple and Pump Ridge
Distance: 6.5 miles
Time: About 4 hours
Elevation Gain: 678 feet
Dog Allowed: Yes
Restrooms: No
Biking: Yes
Difficulty: 3
First published 2010-06-13