Pine Hollow -- American Fork Canyon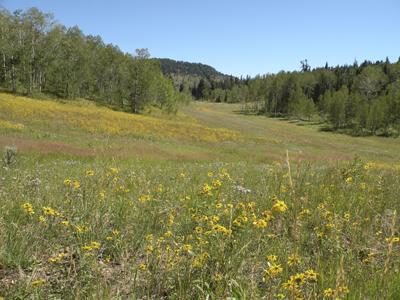 The trailhead is on the Alpine Loop Road (S.R. 92) immediately beyond the tight S-curve near the Mutual Dell campground coming from American Fork Canyon. A parking lot and a bathroom are on the right (southwest) side of the road; the trail begins on the left side of the road. Head uphill less than 0.1 mile to a trail junction with a sign pointing left to Mutual Dell — go right. The trail parallels the road as it rises southeast toward the Pine Hollow drainage. It bends further east and continues to another T-junction just over a mile from the trailhead. Turn left toward the Ridge Trail, (away from Salamander Flat). At 1.5 miles is a meadow with great views of Timpanogos. Bear left, bending around the meadow to the Ridge Trail junction at 1.7 miles from the trailhead. Turn left and go 0.1 mile. As you exit the aspen grove, follow one of the little footpaths to your right and take in the glorious ridge views.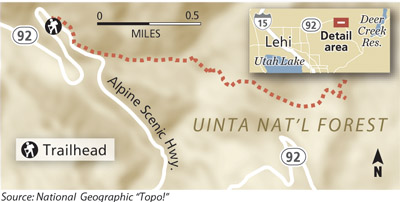 Getting there: From the mouth of American Fork Canyon, head east 5 miles to the junction of state roads 144 and 92 (Alpine Scenic Highway). Go right on S.R. 92. After a mile, the Mutual Dell campground will be on your right. A quarter-mile beyond is a severe S-turn. The parking lot and trailhead are immediately after the hard right, 0.8 mile after Mutual Dell.
Region: Utah County
Destination: Ridge
Distance: 3.6 miles
Time: 2 hours
Elevation Gain: 1,162 feet
Dog Allowed: Yes
Restrooms: Yes
Biking: Yes
Difficulty: 3
First published 2010-10-03