Jeremy Ranch 24-7 Trail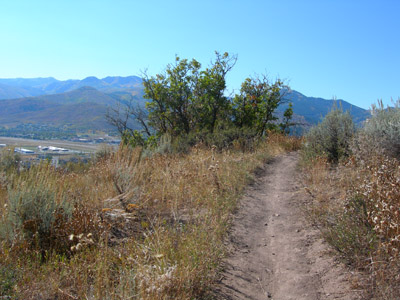 This short, easy hike begins by heading uphill on a thin dirt path. It winds through scrub oak most of the way and has little shade. There are a few switchbacks at the start, but the trail mostly heads east along the side of the hill and overlooks the homes in Jeremy Ranch. Bicyclists also use this trail, so be vigilant. After hiking about two miles, you will arrive at a wooden bench that overlooks Interstate 15 and parts of Jeremy Ranch and Park City. This is the beginning of Flying Dog Trail. You can also continue east along The 24-7 Trail.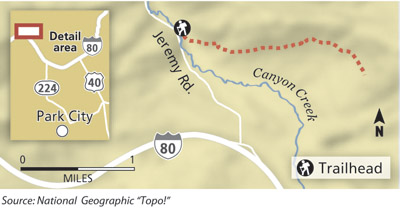 Getting there: From Salt Lake City, drive up Parleys Canyon and get off at the Jeremy Ranch exit. Turn north and go under the freeway overpass. Turn left at the stop sign and then make a quick right on Jeremy Ranch Road. Follow the road for a couple of miles until you reach a dirt road. Turn right and stay on the paved road for a few feet and park. The trailhead is on the north side of the road.
Region: Summit County
Destination: Bench and overlook
Distance: 4 miles
Time: 2 hours
Elevation Gain: 6,199 (Start) (High and end) 6,828
Dog Allowed: Yes
Restrooms: No
Biking: N/A
Difficulty: 1
First published 2010-10-10