Bullfrog Marina Nature Trail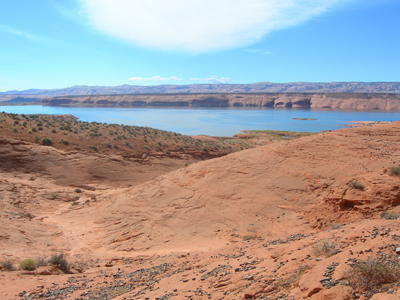 This short, easy hike begins by following a sandy trail south. It is a desert landscape with prickly pears and scrub brush. Watch for crows and lizards as you cross a dry wash and then head southeast up several wooden steps spread several feet apart. At the top there is a great panorama of Lake Powell. Going southeast, follow similar steps down and into a second wash and some slickrock. After traveling through a third dry wash, scramble over a small dirt hill before reaching the parking lot for the ferry. Returning, head back the way you came before taking a new section of the trail east. Follow the cairns up a slickrock wash. After a few switchbacks, there will be an overlook marked by a large cairn. From here, head northeast. The skinny dirt trail snakes around before traversing down more slickrock. The loop heads west and northwest and then connects to the trail that ends at the campground.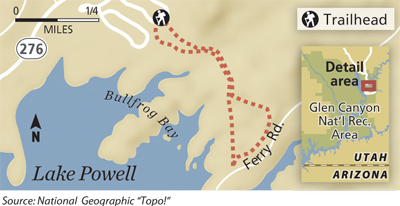 Getting there: From the Glen Canyon National Park entrance at Bullfrog, follow the road about three miles toward the marina. Pass the visitor center and look for the Bullfrog Campground on your left. When you come to loop B, follow the paved road about a third of a mile back and you will see a sign where the trail starts. Park outside the campground and walk in if you are not registered at a site.
Region: Lake Powell
Destination: Loop
Distance: 1.5 miles
Time: One hour
Elevation Gain: 3,723 (trailhead and low); 3,787 (high)
Dog Allowed: Yes
Restrooms: Yes
Biking: Yes
Difficulty: 3
First published 2010-10-17