Parleys Canyon Trailhead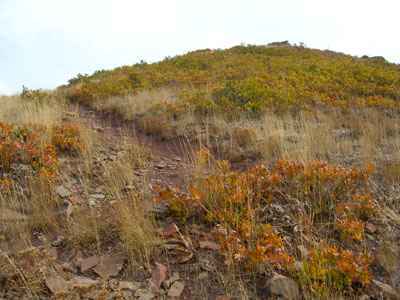 The Bonneville Shoreline Trail at Parleys Canyon heads south toward Draper. But there are several paths that also head up the hill to the east. Two lead to Grandeur Peak. I took the south ridge. The good news is the leaves are changing colors and the hillside is a brilliant yellow, green and orange. The directions are simple, but this trail is tough. First, head slightly south along the Bonneville Shoreline trail to the foot of the west ridge. Then go east on the rock-littered dirt trail. There is no other option but to go straight up. There are hardly any switchbacks. Be prepared to drink lots of water. Your reward is the scenery and the views of Salt Lake County. I didnít make it to the peak because my puppy was getting unruly and rain clouds were rolling toward me. You can return the same way you ascended or come down the northern ridge, which is only slightly easier.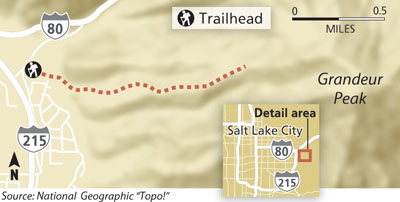 Getting there: From Salt Lake City, take Interstate 80 east and merge onto Interstate 215. Get off at 3300 South. Make a left and go through the stop light. Take the first left and follow it for about a mile to a parking lot and the Parleys Canyon Trailhead.
Region: Salt Lake County
Destination: Grandeur Peak (elevation: 8,299).
Distance: 2.8 miles plus
Time: 2.5 hours
Elevation Gain: 4,941 (trailhead and low); 6,910 (end and high)
Dog Allowed: Yes
Restrooms: No
Biking: Yes
Difficulty: 5
First published 2010-10-24