Days Canyon -- Hobble Creek Canyon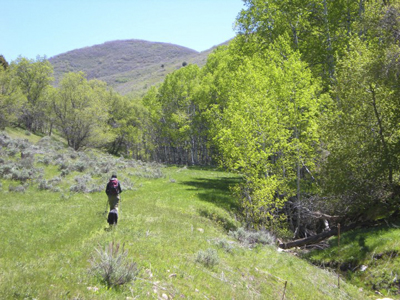 The trail starts with a bridge over the right fork of Hobble Creek, just below the parking lot. This is the only established bridge on a trail with many stream crossings — at least in spring. Poles or a walking stick help. I thought the crossings were fun, but small children might be intimidated (I did, however, meet some very happy children tiptoeing over step stones). If you're nervous, do this hike in midsummer, when water levels should be very low. About 400 feet beyond the trailhead is a T-junction with the trail from Cherry Campground. Take this trail left. There are several botanical interpretive signs for the next quarter mile, until you reach the third stream crossing. From here, turn right and follow the stream uphill for a mile, zig-zagging across the water. The trail levels out as it enters a gorgeous meadow 1.4 miles from the trailhead. I kept going another 0.7 mile, to where the meadow ends. The Days Canyon is a day-use area only. Resist the temptation to camp in the meadow.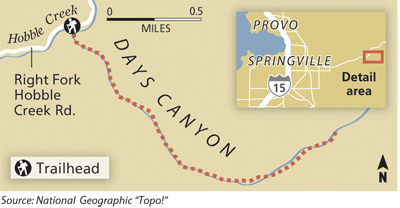 Getting there: From Springville, take Canyon Drive into Hobble Creek Canyon. About 2.5 miles after the reservoir, near a golf course, the road branches; take the right fork. The trailhead parking lot is on your right, just past the Cherry campground, about 1.5 miles after the golf course.
Region:
Destination: Meadow
Distance: 4.2 miles
Time: About 3 hours
Elevation Gain: 1,043 feet
Dog Allowed: Yes
Restrooms: No
Biking: N/A
Difficulty: 3
First published 2010-07-04