Eagle Canyon Arch -- San Rafael Swell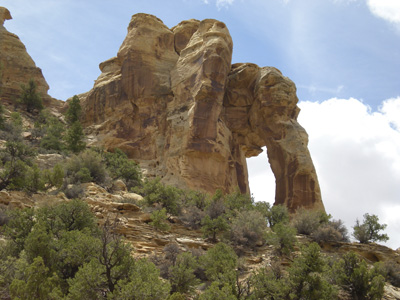 This is best known as a trail for all-terrain vehicles, but it makes a good hike to a big arch. Take the trail into Eagle Canyon. It is well marked and lined with pinyon and juniper trees. The trail winds northwest and is tucked among cliffs and mesas. At 2.4 miles, look to your right and see the arch. The pair of caves called The Ice Box sits on the trail near Swasey's Cabin. The cave walls are cool to the touch and best visited on the return so you can cool.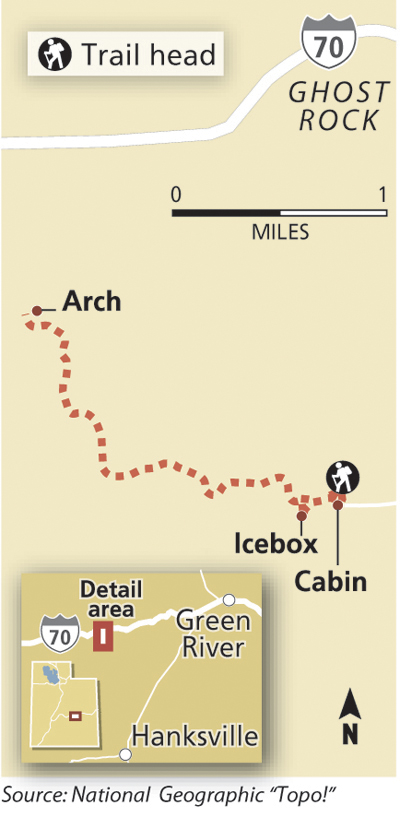 Getting there: From Interstate 70, take Ranch Exit 131. Go south for a few hundred feet, then turn west on the dirt road that parallels the interstate. Follow that road five miles to a sign pointing to Swasey's Cabin. Follow that road and the signs to the cabin for 7.6 miles. The trailhead is next to the cabin.
Region: San Rafael Swell
Destination: Eagle Canyon Arch
Distance: 4.8 miles
Time: 2 hours
Elevation Gain: 375 feet
Dog Allowed: Yes
Restrooms: Yes
Biking: N/A
Difficulty: 1
First published 2010-06-06