Rocky Peak, Oquirrh Mountains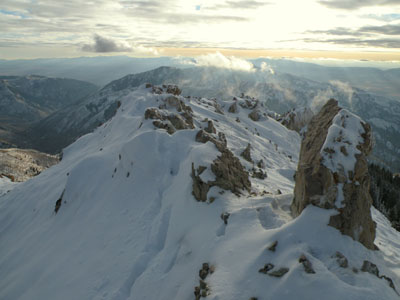 The fact that so many people consider the Oquirrhs to be the ugly cousins of the Wasatch just saves the gems for the rest of us. One of those gems is Ophir Canyon. This hike rises out of the pretty woods to open bowls and a few statuesque peaks. Rocky Peak, though not the tallest, is probably the most dramatic. My route starts on a pack trail (which is becoming covered with snow) and then follows drainages and deer trails. Take good boots and stabilizers; the water crossings are sketchy and the snow shin-deep at the top. If you wait much longer, you probably will want snowshoes. From the trailhead, go north, crossing the creek. The trail is initially hard to see, but it follows the stream drainage closely, criss-crossing the water several times as it winds gently uphill to the northeast. The woods open to a meadow at 1.2 mile. You can see Lowe Peak above. Shortly after that, the drainage bends north and then west as it rises more steeply. By 1.8 miles, I could no longer see any obvious trail, but the drainage is easy to follow north. At 2.25 miles, take the west-most mini-drainage straight up toward Rocky Peak; you will find meet with a clearer trail about 0.2 miles above. Wind west around the ridge. I climbed up the south ridge of Rocky Peak and, at 3.2 miles, cut west across the face to the west ridge. From there, scramble to the very top, which offers great views in all directions, from Antelope Island to Timpanogos.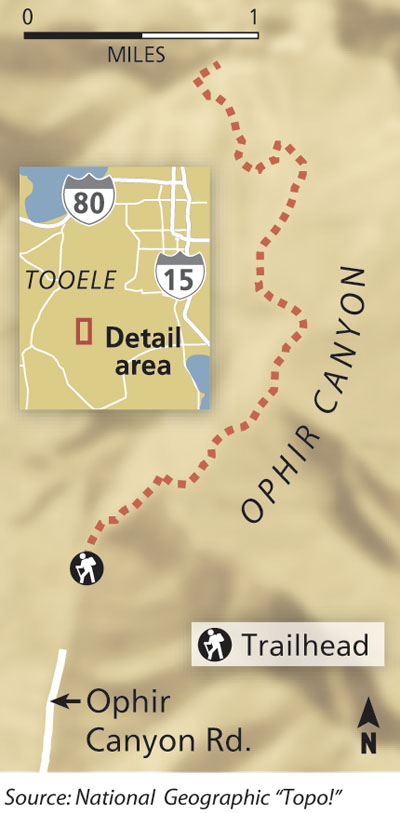 Getting there: From Stockton, go 5 miles south on S.R. 36. Head southeast on S.R. 73 and travel 4.6 miles to the Ophir turnoff. Turn east onto Ophir Canyon Road and go about 6.25 miles, through historic Ophir town and a Tooele County campgroung, to the dead end. There you will find signs banning motorized travel and a creek. This is the trailhead.
Region: Oquirrh Mountains
Destination: Rocky Peak
Distance: 7 miles
Time: 6 hours
Elevation Gain: 3,200 feet
Dog Allowed: Yes
Restrooms: No
Biking: Yes, at bottom
Difficulty: 5
First published 2010-11-21