Mid-Valley Trail -- Tooele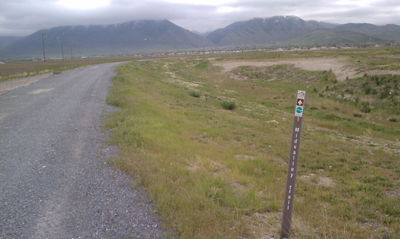 This trail is part of a developing Tooele County trail system and gives a look at the prairielike horse and cattle pastures. That's not as scenic as the mountain or forest hikes in the state, but the wide gravel trail has no elevation change and offers year-round recreation. There are trailheads on Rogers Street near Tooele and on Sheep Lane near Miller Motorsports Park.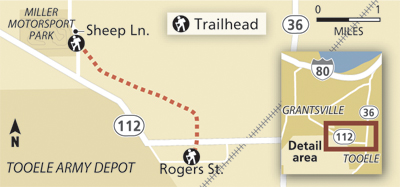 Getting there: To reach the Rogers Street trailhead, go to Tooele and turn west on State Road 112. Drive 1 mile and turn south onto 600 West. After 0.3 miles, 600 West becomes Rogers Road and curves west. The trailhead is another 1/2 mile on Rogers Road and is marked by a kiosk and parking area. The Sheep Lane trailhead can be found near the southeast corner of Miller Motorsports Park and can be reached by taking SR 138 or SR 112.
Region: Tooele
Destination:
Distance: 5.4 miles
Time: 2.5 hours
Elevation Gain: 89 feet
Dog Allowed: Yes
Restrooms: No
Biking: Yes
Difficulty: 1
First published 2011-05-22