Gorgoza Park Up and Road to Arcylon trails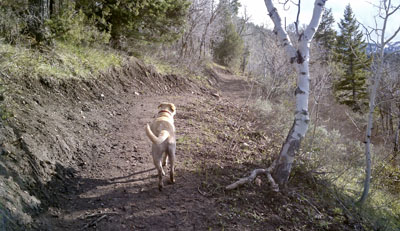 This week's Gorgoza Park hike is similar to last week's, but longer. Part of it will soon be a mountain bike trail, so be aware. At the Gorgoza Park trailhead, start up the south side of the hill heading east and west on the switchbacks. Less than a mile in, follow the sign pointing to the "Up Trail." It soon veers right, going west, and you must traverse a tree that has fallen across the path. It is not too difficult. Keep an eye out for moose, as the yellow signs suggest. The trail is pretty flat here. At mile 1.3, at the T, go left on the "Road to Arcylon" and continue along the switchbacks. There is a bit of shade in this area. Just before the two-mile mark will be a "trail closed" sign across the path. This is where the future downhill bike track will start. You may want to turn around and return the same way you came. Or at your own risk, continue and keep your eyes out for fast bikers coming from behind. The trail heads down the mountain here and consists of mud berms and wooden bike jumps. It continues mostly west before circling back around to the east. At mile 3.1, just before getting back on the "Up Trail" and returning to the parking lot, you will run into several large branches on the trail that are easy to pass.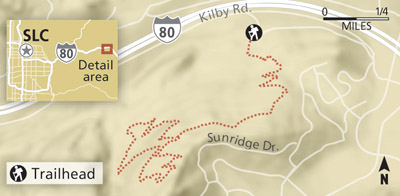 Getting there: From Salt Lake City, take Interstate 80 east into Parleys Canyon and get off at the Parleys Summit exit. Follow the frontage road, Kilby, east for 1.7 miles until you see a pond and a parking lot on your right.
-- Jason Bergreen | The Salt Lake Tribune
Region: Summit County
Destination: Loop
Distance: 4.5 miles
Time: 2 hours
Elevation Gain: 570 feet
Dog Allowed: Yes
Restrooms: No
Biking: Yes
Difficulty: 1
First published 2011-06-05