Maple Canyon Loop Trail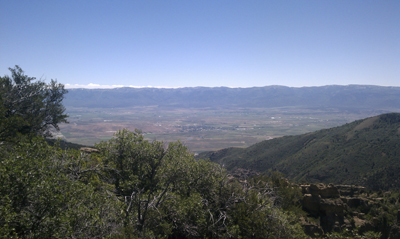 The foliage makes this a great summertime or fall hike. The trail also includes an arch and a good view of Sanpete County. The loop is composed of the Middle Fork and Right Fork trails. From the trailhead, the hike begins on the Middle Fork. After about a half a mile, a sign directs you a few yards off the main trail to an arch cut out of conglomerate rock. Back on the trail, watch for a sign pointing to the Right Fork. Follow it to a bench where you can sit at the overlook. From there itís downhill for the return to the campground. Fees $3.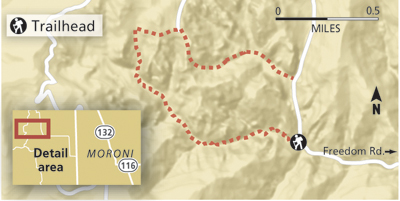 Getting there: From Moroni, turn west on State Road 116. Follow it for 2.7 miles to West Side Road. Go north for 1.3 miles and turn west on Freedom Road. Signs should direct you to Maple Canyon, about 2.5 miles away. Drive into the canyon and find the Forest Service campground. The trailhead is at the entrance to the campground.
Region: Sanpete County
Destination: Loop
Distance: 2.5 miles
Time: 2 hours
Elevation Gain: 1,218 feet
Dog Allowed: Yes
Restrooms: Yes
Biking: No
Difficulty: 3
First published 2010-07-31