Wolf Canyon Trail - Eden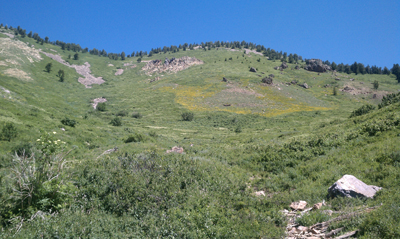 This is a good summer hike with lots of shade, wildflowers and great views of the canyon. The trail begins on a somber note with makeshift memorials to slain boy Ethan Stacy, whose body police found along this trail. The trail begins on an old road and is a public easement on private property. Near 1.5 miles, the road ends at a narrow stream and the trail continues to the left. The trail remains well-marked until you begin to approach a basin, then the brush begins to overtake the path. The 6.4-mile round trip here represents where the canyon trail becomes indistinguishable, and the return trip back to the trailhead.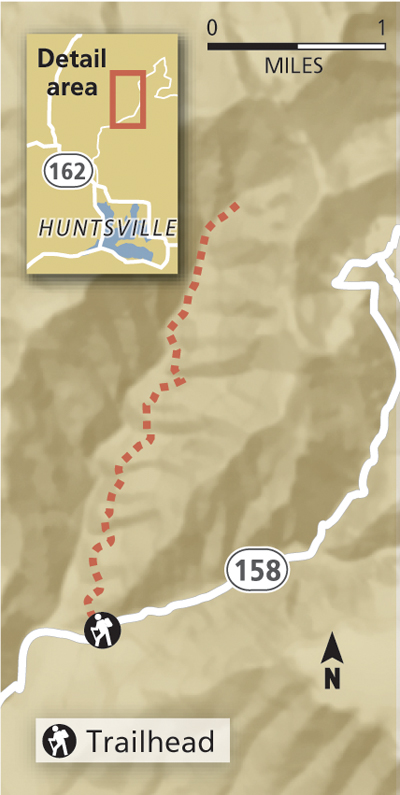 Getting there: From Ogden, take 12th Street east through town. At the end of town, 12th Street becomes State Road 39. Follow the road another 5 miles and turn north onto State Road 158. Take that road about 8 miles, passing Eden on your way. The trailhead is marked by a kiosk on the west side of the road beside a creek. If you reach Powder Mountain Ski Resort, you've gone too far.
Region: Eden
Destination: Basin
Distance: 6.4 miles
Time: 3 hours
Elevation Gain: 1,528 feet
Dog Allowed: Yes
Restrooms: No
Biking: Yes
Difficulty: 1
First published 2011-08-07