Red Butte Nature Trail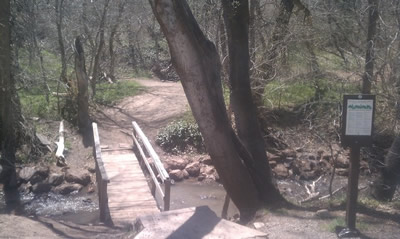 From downtown Salt Lake City or Interstate 80, take 500 South/Foothill Boulevard toward the University of Utah then turn north onto Mario Capecchi Drive. Then turn right onto South Campus Drive then another right onto Fort Douglas Boulevard. Turn left onto Pollock Road then another left onto Connor Road. Follow that road to the right and pass Red Butte Gardenís amphitheater. Soon you will reach a parking area in front of a gate.
Getting there: Download GPS data by clicking here. www.trimbleoutdoors.com/ViewTrip/2215604 The trail offers some of the scenery of Red Butte Gardens and a panorama of the Salt Lake Valley. Pass the gate and walk on the paved road until the foot bridge appears on your right at .66 miles. Walk across the bridge and follow the trail. Soon you will be hiking uphill. At 1.25 miles is a ridge with your first view of Salt Lake City and the valley floor. Keep hiking, and at 1.87 miles is the first of two benches to sit and enjoy the view. Stay on the trail going slightly uphill. Soon you will go downhill toward an old agricultural building. Keep the fence on your right until you see the trail going uphill again. This is the last significant climb. When the Bonneville Shoreline Trail appears below you, take the best route you can to get down onto the city streets. Itís about three-quarters of a mile back to the trail head. To complete the loop, walk southwest to Chipeta Way then turn right and follow it back to the trail head.
Region: Salt Lake County
Destination: Loop
Distance: 4 miles
Time: 2 hours
Elevation Gain: 568 feet
Dog Allowed: No
Restrooms: No
Biking: Yes
Difficulty: 1
First published 2013-05-09