Bowman Fork to Baker Pass in Millcreek Canyon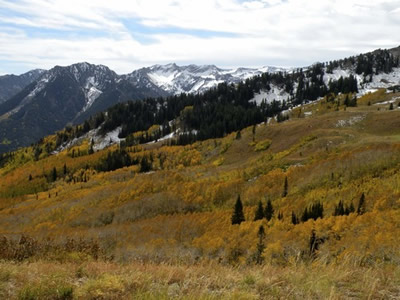 Hike up the road to the picnic area and follow the signs to the trailhead, near the southwest parking lot. Right after the trailhead, follow the signpost to the right. The trail goes east into the Bowman Fork drainage, where it stays for more than a mile. At 1.55 miles, the trail turns left and switchbacks up the slope. At 1.9 miles you reach an overlook and the trail bends sharply left. The next section is more gradual as it winds east and south around the minor canyon. About 2.5 miles it rises steeply to another overlook at 2.9 miles with great views of Mount Raymond. From here to the pass, the trail is somewhat steep as it rises east, bends south through an aspen grove and east again. At about 3.5 miles you'll ascend a steep ridge east and may initially have trouble seeing the trail bend around the slope to your north; just keep going, and you'll see the trail clearly. Take the final leg around the top of Bowman Fork to Baker Pass and enjoy the Big Cottonwood Canyon views.
Getting there: Park on Millcreek Canyon Road across the street from the turnoff to The Terraces picnic area, which is closed for winter.
Region: Salt Lake County
Destination:
Distance: 6.5 miles
Time: 6 hours
Elevation Gain: 3,300 feet
Dog Allowed: Yes
Restrooms: Yes
Biking: Yes
Difficulty: 3
First published 2012-05-02