Deer Creek Lake -- Boulder Mountain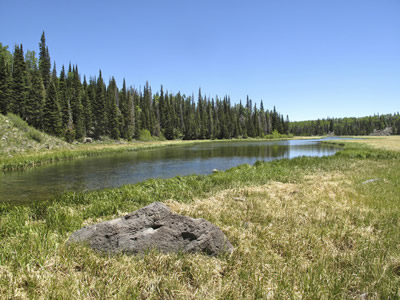 There's more than red rocks in southern Utah. The trail to Deer Creek Lake begins with a grove of aspen trees then ascends into a meadow. Near the halfway point, you'll reach a junction that says itís another 1 1/4 mile to the lake. (That distance doesnít seem to be accurate.) Follow the sign, and you'll soon be in another thick stand of trees. Youíll cross one more meadow before reaching Deer Creek Lake. Watch for deer and elk on the trail and ducks on the lake.
Getting there: From Torrey, drive west on Highway 12 for 26 miles. Or from the town of Boulder, drive east on Highway 12 for 9 miles. The trailhead will be on the west side of the road.
-- Nate Carlisle | The Salt Lake Tribune
Region: Southern Utah
Destination: Boulder Mountain
Distance: 6.1 miles
Time: 3 hours
Elevation Gain: 678 feet
Dog Allowed: Yes
Restrooms: No
Biking: Yes
Difficulty: 3
First published 2012-07-12