Carmel Canyon Trail in Goblin Valley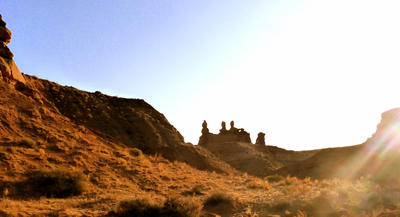 The 1.4-mile trail leads to the valley floor, a generally cooler, sandier area of the park compared with the Valley of the Goblins. At times, the trail is hard to follow — keep an eye out for the very occasional signs and more-frequent cairns. The loop has an optional side trail to overlook Molly's Castle, a broad, flat formation topped with spires of redrock. The short overlook trail is relatively high, about 15 feet, and narrow, but offers a pretty view. More formations come into view as the trail loops back out of the canyon through a dry creek bed. The path becomes more strenuous as it climbs through sandy earth, and also includes a very small slot canyon to climb though.
Getting there: This trail is in Goblin Valley State Park, which has a $7 entry fee per vehicle. From the parking lot, the Carmel Canyon trail is to the left, away from the redrock formations in the Valley of the Goblins.
Region: Southern Utah
Destination: Carmel Canyon Trail
Distance: 1.4 miles
Time: 1 hour
Elevation Gain: 99 feet
Dog Allowed: Yes, leashed
Restrooms: Yes
Biking: No
Difficulty: 3
First published 2012-06-06