Notch Peak in western Utah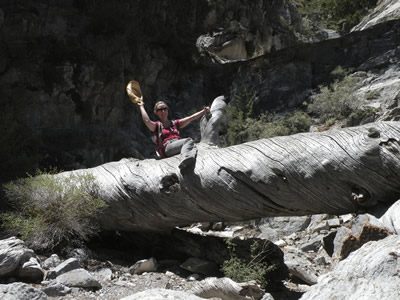 From the trailhead, follow the easy trail northwest. Take the left fork at the junction after 2⁄3 mile. From here, the trail winds west-northwest through a sharp, surprisingly lush canyon. The trail is obvious; there aren't other places to go. At about 3 miles you will find a huge, fallen tree in a rocky amphitheater. From here there is some mellow scrambling, and the canyon gets shallower as you near its top. After 3.5 miles, near a gnarled, dead tree, the obvious trail on the canyon floor peters out in a bowl of scree and brush. From here, the trail fades in and out, but you can pick out the route. Look for cairns and faint footpaths to the northwest; your goal is a cairn on a rock outcropping, about 0.15 mile from where you left the obvious canyon trail. From the outcropping, you will see a false summit to your north. Head that way, bearing slightly to your left, and you will see Notch Peak to the left and a saddle between it and the false summit. Look for cairns and aim for the saddle, which is about 0.2 mile from the outcropping. The views into the gorge are vertigo-inducing. From the saddle, pick your way west up the slope about a quarter mile to the summit. Step for step, this is one of the most fun Utah hikes I've done.
Getting there: The nearest major town is Delta. From U.S. Highway 6, turn onto a dirt road 36 miles west of S.R. 257, after mile-marker 45. After 1 mile, turn north on 3C Road. Bear left at a T-junction. In about 2.5 miles, go west-northwest about 5.1 miles on Miller Canyon Road and turn left at an ATV unloading lot and picnic area. After about 2.6 miles on this dirt road, look for a log cabin on your right. This is Behunin Cabin. You may need a higher-clearance car beyond the cabin. The trailhead is 3/4 mile ahead.
Region: Western Utah
Destination: Notch Peak
Distance: 8.4 miles
Time: 8 hours
Elevation Gain: 2,760 feet
Dog Allowed: Yes, but will need to be lifted over obstacles
Restrooms: No
Biking: No
Difficulty: 5
First published 2012-06-20