Little Cottonwood Trail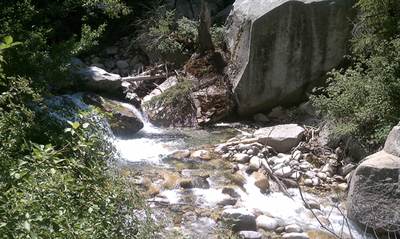 The trail sits between Little Cottonwood Creek and the canyon road. The first two-thirds of a mile is paved, then you reach the junction with Granite Cliffs Road and Wasatch Resort Road. Follow the signs to stay on the trail. The creek gets within sight and earshot of the trail at 1.05 miles. At 1.91 miles, you will cross a narrow footbridge over the creek. At 2.53 miles is a wider bridge and around the corner is an old hydroelectric generator. Go through the gate at 2.81 miles. At the 3.25 mile mark, turn right through a makeshift campsite to the creek. There are some rocks in front of rapids that are good for stopping and watching. (This is the end point represented in the hike data.) Or you can continue up the trail, if you prefer.
Getting there: From the mouths of Big Cottonwood canyons, drive 4 miles south on Wasatch Boulevard. (The road also is Little Cottonwood Canyon Road.) The trail head is marked on the right side of the road.
Region: Salt Lake County
Destination: Rapids
Distance: 6.5 miles
Time: 3 1/2 hours
Elevation Gain: 1,115 feet
Dog Allowed: No
Restrooms: Yes
Biking: Yes
Difficulty: 1
First published 2012-08-07