Left Hand Fork/Ridge Trail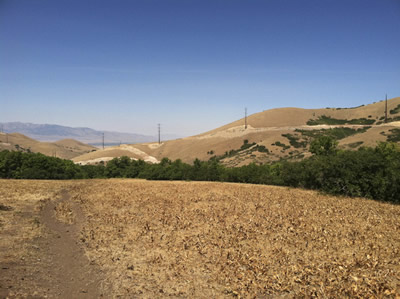 After entering, park and walk to the Left Hand Fork Trail, which is marked with a sign off Settlement Canyon Road. About a half-mile in, after the path widens, take right turn at the sign for Ridge Trail/Crossing Hollow. A rocky, uphill climb opens to a golden plateau. Keep going into a shady canyon, where a raptor made an appearance on a recent visit, then turn around and loop back down to the Ridge Trail entrance and back to Settlement Canyon Road.
Getting there: Settlement Canyon is located just south of Tooele and crisscrossed with trails, much of which have welcome shade for a summer hike. From State Road 36, turn at Settlement Canyon road near Camp Wapiti. Entry fee is $2 at entry point just past Settlement Canyon Reservoir.
Region: Tooele County
Destination: Settlement Canyon - Left Hand Fork/Ridge Trail
Distance: 3 miles
Time: 1 hours
Elevation Gain: 560 feet
Dog Allowed: Yes, preferably leashed
Restrooms: Located nearby
Biking: Yes
Difficulty: 3
First published 2012-08-12