Art • Sculptor of the famed monument 26 miles east of Wendover announces plans for a museum and interpretive center to accompany it by 2020.
By Eric Walden
The Salt Lake Tribune
If you've ever been issued a citation by the Utah Highway Patrol for pulling off Interstate 80 and illegally parking on the shoulder about 26 miles east of Wendover to take a picture of the famed "Tree of Utah" sculpture, Karl Momen is deeply sympathetic.
He wasn't the one handing you the ticket, but, in a way, it's his fault you got it.
Momen is the sculptor who decided to plant his "Tree" in that very spot.
Now, though, the Iranian-born resident of Sweden has a plan that not only will ensure the legacy of his 31-year-old sculpture, but also will guarantee that, a few short years down the road, no more curious motorists will incur a fine for stopping to take in the 87-foot-tall, 875-ton masterpiece.
Momen was in Salt Lake City this week to finalize the establishment of the nonprofit Tree of Utah Foundation, Inc., whose primary goal is to raise tax-deductible donations sufficient to build a museum and interpretive center of his own design near the sculpture.
The internationally acclaimed 83-year-old artist and architect's renderings of the facility bear an "April 2011" timestamp, and he said news footage from around that time about travelers' willingness to risk a slight dent to their bank accounts in order to get a closer look proved the catalyst for the project.
"There was a gentleman with a big Cadillac, and they asked him, 'Why did you park here knowing you'd have to pay a ticket?' " Momen recalled. "And he said, 'I'll pay whatever they charge me, because I want to have a photograph with my daughter and my wife with this sculpture.' "
Tree of Utah Museum and Interpretive Center
• Will cost an estimated $2.5 million (with funding for an off-ramp to it bringing the total price tag to an estimated $6 million), to be raised by the nonprofit Tree of Utah Foundation Inc. via private donations.
• The state will involve UDOT in the construction of the off-ramp once the private funding has been secured.
• The museum is intended not only to tell the history of the "Tree of Utah" sculpture, but to host an annual international art festival.
• Karl Momen, the sculptor of the "Tree of Utah" and the museum's architect, projects a 2020 dedication.
Planting the seeds • On Wednesday, Momen and Herman du Toit, the former head of research and education for the Brigham Young University Museum of Art and now the executive director of the Tree of Utah Foundation, met with the governor's chief of staff and representatives from the Attorney General's office, the Department of Heritage and Arts, and the Division of Facilities Construction and Management.
They came away with the message that when the foundation has acquired the money necessary to build the museum and an off-ramp from the interstate to it — which Momen estimated at a total cost of $6 million — they can proceed with the project.
"The governor's office is supportive of getting better access to the site, but right now it's not a priority for the state to contribute any sort of funding to it," said Josh Loftin, spokesman for the Department of Heritage and Arts. "… If they raise all the money, it would then be up to [the Utah Department of Transportation] to build an off-ramp, and that's the point where the state would become involved in the planning and participate in the building process."
Momen, who is targeting a 2020 date for the museum's dedication, "has some significant donors who will come on board now that approval has been given," according to du Toit.
And he can't wait to get things going.
"Immediately, when we get enough money to start the project, we're going to start," Momen said.
Gretchen Dietrich, executive director of the Utah Museum of Fine Arts, said the sculpture's sizable presence within the state — literally and figuratively — warrants continued attention.
"It's such a well-known, beloved landmark in our state," she said in an email. "Like so many creative people around the world, Momen felt drawn to our unique landscape and compelled to create in it. I respect his passion and vision, his dedication to seeing this work made, and I believe it deserves to be cared for."
Form meeting function • The sculpture — which Momen dedicated to the State of Utah in January 1986 — is, by its most simple description, a sheer vertical trunk featuring "branches" suspending six multicolored spheres. Within that form, said du Toit, lies significant educational value.
He cited its ability to teach students and tourists alike about everything from it serving as a metaphor for the preservation and survival of the natural order amid growing urbanization to "the styles that have defined modern architecture during the 20th and 21st centuries" to the "pre-stressed concrete techniques … used in the construction process."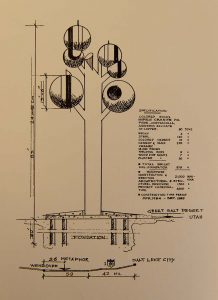 "As people come to know more about it and discover its unique properties and characteristics," du Toit said in an interview, "they come to love it."
Momen said that, when approached from the west, the view of the museum will be "almost like a cruiser that has [sunk] into the sea. … The building should also intrigue the fancy." Within the structure will be a cafeteria, a balcony, rooms for administration and the highway patrol, and a glass-encased "meditation room" offering a view not of the "Tree," or even the highway, but only of "the Salt Flats and the mountains behind. Nothing else. … You can sit and be not bothered by anything civilization-natured."
His ultimate purpose for the museum goes beyond a day-to-day ability to educate. A 2,000-square-foot outdoor showroom plaza, he said, "is the most important part."
"Every year in September, for two weeks, the foundation of this building is going to finance an international sculpture and art festival," Momen said. "Every year, 15 days in September, world artists doing shows. That is the reason I'm building it. Can you imagine the artists coming with their sculptures and paintings from around the world and experiencing the desert? I've walked so much around this desert. I know how it is."
Visions of and in the desert
• It is Momen's reverence for Utah's desert landscape that initially inspired his "Tree" sculpture — the largest work of his art career — and that now inspires the museum project to accompany it.
Though the "Tree" resides mere miles away from a town built on casinos and hotels, the artist said that particular bit of art will remain entirely noncommercial.
'Tree of Utah' by the numbers
Some facts and figures about the famous sculpture about 26 miles east of Wendover and 75 miles west of Salt Lake City:
Permit granted • January 1984
Completed • September 1985
Dedication • January 1986
Height • 87 feet
Weight • 875 tons
Spheres • Six total, the largest of which measures 13 feet, 6 inches in diameter and weighs 60 tons
Foundation • Eight feet of concrete, supported by 25 steel-encased concrete piles
Hours of labor • 21,000
Cost • Sculptor Karl Momen has revealed only that he spent more than $1 million on the project
Materials used • 100 tons of chrysocolla rock, 4 tons of epoxy, 160 tons of steel, 15 tons of colored cement and sand, 18,000 imported ceramic tiles, 5 tons of welding rods, 7 tons of timber for mold formers, and 20 tons of plaster
Source: "The Tree of Utah: One Man's Dream" by Herman du Toit
"Just in the last months, I've got five or six companies looking to make T-shirts. Toyota wants to put a logo of the company on the tree. I said, 'No,'" he said. "I could make a lot of cash — unbelievable money. But I'll never do it. … I have no intention to take a penny. I don't need it. I have a rich soul and empty pockets!"
After taking a four- or five-year break from producing any new pieces while fighting off cancer he acknowledges "should have killed me," Momen returned to work this past summer, renting a catacomb studio "20 stairs below the ground" from a Swedish-Italian colleague, from which he ultimately emerged with 10 paintings.
One, titled "Cherry Orchard," was inspired by a play from 19th-century Russian author Anton Chekhov. Another, "Evening Red," was based upon "Im Abendrot," one of the famed "Four Last Songs" by late Romantic-era German composer Richard Strauss.
A third, though, featuring a pair of orbs hovering over a barren desert highway, is titled "Dancing Comets Over the Salt Flats: Karl's Dilemma." The theme, he said, was a reflection of the "political dance" necessary three decades ago to finish a project that, while celebrated internationally, caused confusion and "outrage" locally.
Momen, with his international roots, has earned the "vagabond" moniker the world's art community has bestowed upon him. But he said Utah will forever pique his interest.
"Most people never experience the desert when they travel. You must go someplace alone — sitting and looking — and digest the atmosphere," he said. "When I came the first time, driving through in August 1981, I didn't know anything about the desert. Over this, there was the angel of craziness, who immediately sent a signal to me, 'You should make something here.' I could have done what the devil told me, but the devil is not very good!"
Twitter: @esotericwalden