Slot-canyon adventure
The Salt Lake Tribune
While many of Utah's grand outdoor adventures require investing in pricey equipment, canyoneering could easily start with a trip to Deseret Industries or another local thrift shop.
Simply put, canyoneers shred whatever they are wearing.
"I hope you wore your best underwear today because there is a chance we might be seeing it," Rick Green, owner and guide at Excursions of Escalante told the group preparing for their first slot-canyon adventure on Grand Staircase-Escalante National Monument.
As it turned out the only underwear exposed that day was mine as sliding on the sandstone proved too much for my old shorts.
Sandstone does, after all, start with the same word as sandpaper.
While canyoneering — also known as canyoning, gorging and slotting — has been done around the world as a matter of daily life for centuries, the activity has seen a major boom in recent years. Naturally, Utah has become a popular canyoneering destination.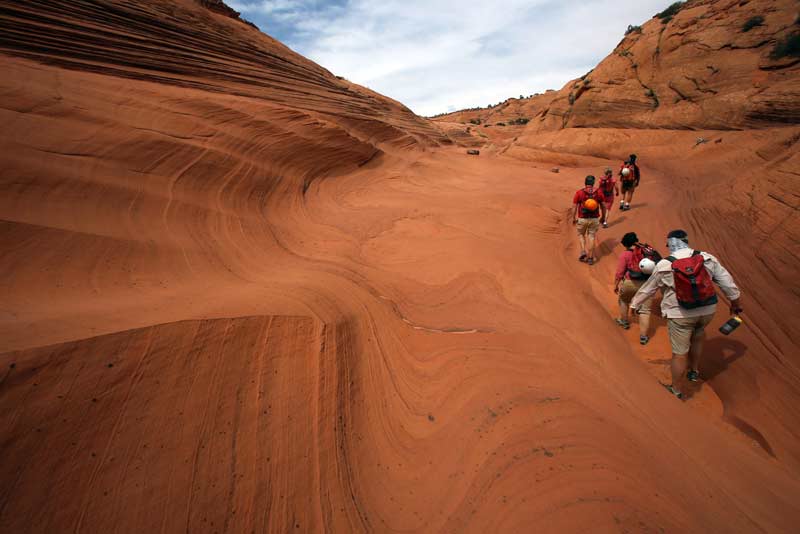 Photo by Francisco Kjolseth
From the famous Subway and Narrows routes in Zion National Park to the countless side canyons running into Lake Powell, Utah is zig-zagged with slot canyons galore.
One caution that experienced canyoneers emphasize: Never enter a slot canyon when heavy rain is expected. Check the weather and keep an eye out, when you can see the sky from the depths of the canyon, for developing weather.
Carl and Kristin Wold traveled from Portland, Ore., for a chance to experience a new way to enjoy the outdoors.
"This is something completely different than anything I have tried before," Kristin Wold said while deep in a slot canyon on the national monument. "And this was one of the premier places to try it."
Canyoneers describe the often tight confines they are attempting to navigate as a more intimate experience than the typical wide-open spaces of desert landscapes.
Kristin Wold agrees.
"It is all over you literally," she said, having given up much earlier on trying to wipe off the dirt and dust from her clothing. "This is just a whole new landscape and a whole new perspective on the desert that I've never had before. The beauty is just in stark contrast to most desert landscapes. Seeing it vertically, as it were. There is a surprise around every corner. Not being able to see very far in front of you is very exciting."
Canyoneering is different from simply hiking a slot canyon because it typically requires gear — ropes, harnesses, helmets and sometimes wet suits when water obstacles line the route.
"The rigging is relatively simple, but it is very important that it be done correctly," said Green, who also serves as a volunteer on search-and-rescue missions in the Escalante area. "Once you get that dialed in, it opens up so much country. There is so much to see in Utah that is unbelievable."
The biggest issue most newbies encounter is learning how to rappel. Many people don't like having to rely on themselves so much in a new experience. Green and fellow guide, Jim Clery, took plenty of time to make their clients comfortable with the initial 40-foot descent into the canyon that began our adventure. They also pointed out that they had some rope control — on belay, they could stop or slow someone's descent — in case anything went wrong.
"Being on the edge of the cliff was fairly terrifying," Kristin Wold said. "I was not sure I had made a wise decision. When I trusted Rick and Jim I realized I was perfectly safe. Halfway down I was surprised how stable I felt; I didn't feel like if I made a false step that it would kill me."
The rappelling, as Green pointed out, is just a means to allow people to reach places they otherwise could not go.
"Lots of folks show up and see the ropes and start thinking rappelling is the big thing, but it really is just a means to move us along in the canyon," he said. "Really, when the fun starts is when you are sliding on your butt or you have your back on one wall and your feet on the other."
Green taught us a vast collection of body manipulations — which reminded some of us of the game Twister — he uses to get through canyons.
us because they see the ropes and at the end of the day they are just like rock stars," he said. "I get to be with them all the way."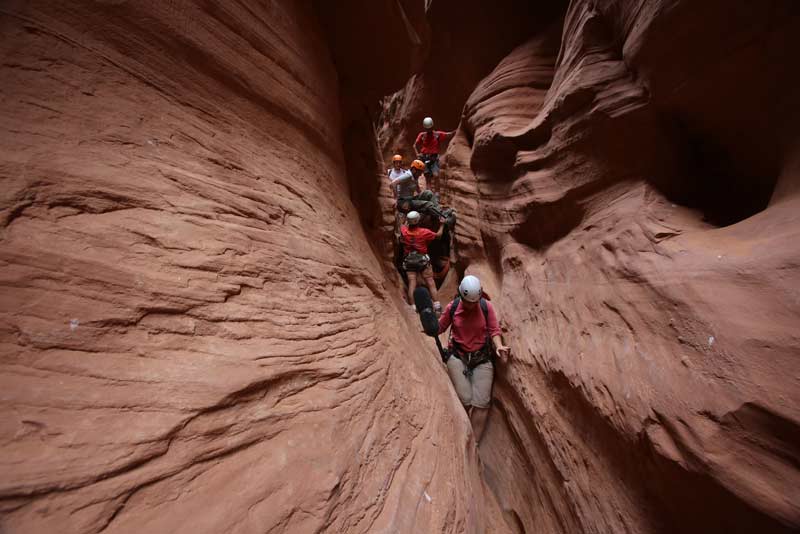 Photo by Francisco Kjolseth
Bridging, wedging, starring and sliding, to name a few. My favorite was smearing, which is basically rubbing any part of your body available against the wall to help keep your weight distributed in a manner to make it easier to move safely in the right direction.
Friction is the real means of getting down the slot canyon; and destroying clothing.
Many of the smaller drops can be safely navigated with a little help from your friends. During our daylong excursion I served not only as a human step for the others, but also an anchor when no safe natural anchor existed. This extremely important person is also known as "meat," which seems to be a nickname I shall never live down.
During a lunch break I asked John Lamping of Los Altos, Calif., what he thought about canyoneering.
"The walls are closing in. I didn't realize how deep it was going to be," said Lamping, who insisted he was not claustrophobic, at least not to that point.
Judging by the number of pictures he was taking, Lamping was impressed by his time in the desert chasm.
It is something Green sees frequently and something he cherishes deeply.
"I'm one of the luckiest people I know. I get to watch them in the morning when they are nervo