How Utah boarding schools stripped Native students of their culture
Content warning
This story includes descriptions of abuse of Indigenous children and families and racist language used by boarding school administrators.
Native leaders have called for additional mental health support as Indigenous communities learn more about this history through an ongoing Interior Department investigation.
The Urban Indian Center of Salt Lake provides outpatient mental health services. Learn more at uicsl.org. Learn about services of the Utah Navajo Health System at unhsinc.org.
Find the Tribal Resource Tool at tribalresourcetool.org.
Mark Maryboy still remembers the fists that came out of the darkness as he lay in bed, the blows landing on his stomach, his arms, his face.
He could hear the same happening to his little brother, Herbert, in the next bed over in the dorm room.
Maryboy was 8 years old. His brother was 7. And they began to fear when the lights would go out each night at the boarding school for Navajo children in Aneth.
The students at the southern Utah school were cut off from their family and their culture, Maryboy said. Their long black hair was cut short; their days were regimented; they were forbidden to speak their language or to pray as they did at home. And Maryboy said the staff did nothing about the assaults from the older boys who attended.
In his second year there, he grabbed his brother and the two ran away.
"It was an awful place to be," said Maryboy, now in his 60s.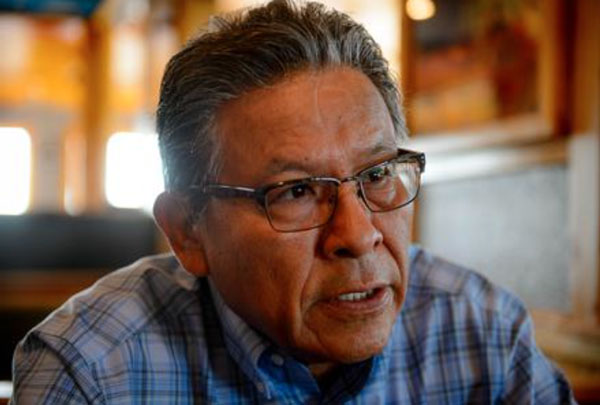 Today, he welcomes the federal investigation now underway into the nation's boarding schools for Indigenous children, including those in Utah.
Department of Interior Secretary Deb Haaland, a member of the Laguna Pueblo tribe and the first Native American to serve in a presidential Cabinet, has promised "a comprehensive review of the troubled legacy of federal boarding school policies," which forcibly removed hundreds of thousands of Native American children from their communities nationwide for over 150 years.
"I hope that they identify the problems that I experienced," Maryboy said. "Abuse is the hardest thing to deal with. It weighs on your mind for the rest of your life."
The Indigenous-led nonprofit Utah Diné Bikéyah has offered to assist in the investigation, and it has its own questions it wants answered. Chief among those: Who financially benefitted from these schools?
With support from the Leonard C. Goodman Institute for Investigative Reporting, The Salt Lake Tribune will try to help answer that question, exploring the history of Utah's schools and how intergenerational trauma they've caused continues to harm students and families today. We'll also look into how Indigenous boarding schools still open in Utah strive to provide an education that safeguards and celebrates Indigenous culture. 
We're inviting you to share your questions, your knowledge and your experience with us.
So far, through interviews with Utahns who attended the schools and federal reports, The Tribune has identified eight boarding schools and dormitories that existed in Utah — including three that operate today in the state. The total number of Indigenous boarding schools in Utah over the decades has not previously been clearly identified.
On April 1, the Interior Department is expected to release a report detailing known and possible burial sites at or near the schools nationwide.
Using federal reports, The Tribune now has tallied at least 50 student deaths at two early boarding schools in the Uinta Basin. Last year, The Tribune reported that the bodies of 12 Paiute children are likely buried at the site of a former boarding school they were forced to attend in Panguitch.
Navajo Nation Council Delegate Carl Slater said the federal government should plan to provide resources, such as mental health services, to Native children and families who will be learning more about the legacies of boarding schools.
"You can't bring up traumatic issues that you created and then not address it without providing adequate health care," the lawmaker said. "We know how traumatized our communities are; you need to support that at the same time."
The violence against Native children has been physical, spiritual, emotional and mental, Slater said. "You're specifically targeting our students to 'assimilate' them, which is an incredibly violent act."
Utah tribal members and families know their own stories, but the extent of abuse at the schools has never been fully known or shared, Maryboy said.
"Books never mention this," added Woody Lee, executive director Utah Diné Bikéyah, who attended a boarding school in Arizona. "There's not a whole lot that's out there to give [our children] a picture of the turmoil we went through."