Hill didn't want to be found dead in Utah
Joe Hill's appeal had failed.
His plea to the Utah Board of Pardons had failed. A request from President Woodrow Wilson won Hill a temporary reprieve from Utah Gov. William Spry — but then a second request, amid an international letter-writing campaign spurred by the Industrial Workers of the World, or IWW, failed.
Hill was executed on Nov. 19, 1915, for the death of Salt Lake City grocer John G. Morrison. That day a bold headline in the Salt Lake Telegram announced, "I.W.W.'s must leave Utah, says Spry."
Ed Rowan, the leader of Salt Lake City's IWW chapter, feared O'Donnell's Mortuary on West Temple wasn't going to be big enough for Hill's service. He told The Salt Lake Herald-Republican that he had tried to get a bigger place, "but had been refused in each instance."
Thousands of people came to see the body. Many were there to pay their respects to the famous IWW songwriter, like the unknown person who pinned an arrangement of red and white roses to Hill's coat. A young child, viewing the body with his father, asked if he could have a rose, too.
Others were driven by a sense of morbid curiosity.
↕ Infiltrating the funeral
After the service, where Hill was eulogized by local labor leaders and prominent Socialists, his body was loaded into a hearse and escorted to a downtown railroad station. The IWW was shipping his body to Chicago for a far larger funeral.
One of Hill's last requests was that he not be found dead in Utah. And on the eve of his execution, he wrote a poem called "My Last Will."
"My body? -Oh- If I could choose," he wrote, "I would to ashes it reduce."
The IWW would fulfill both requests.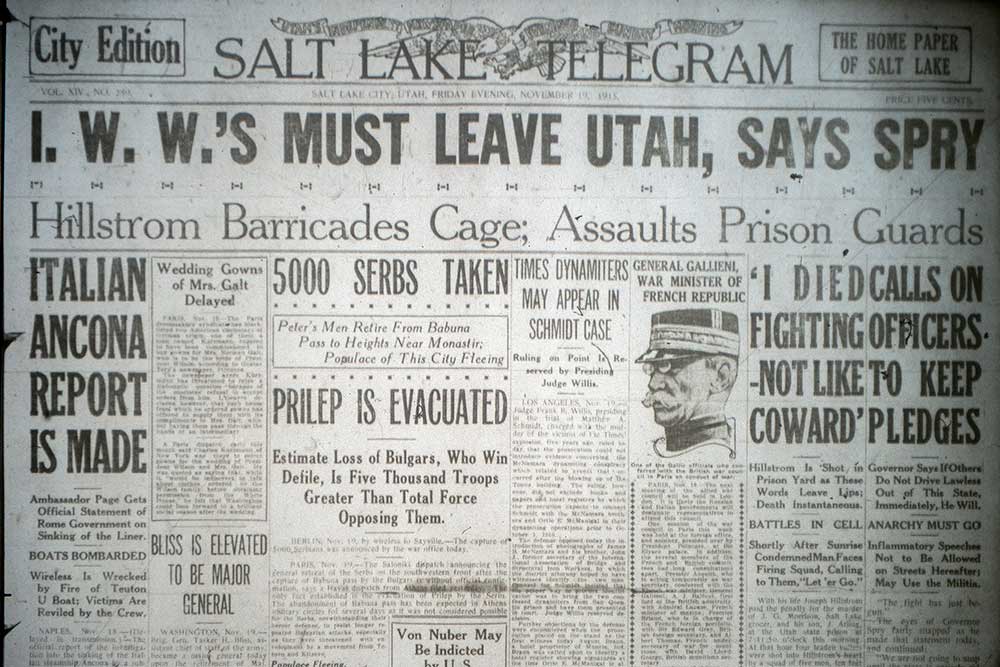 Brash Headline
---
'Murdered by the authorities'
Before Hill was cremated at Chicago's Graceland Cemetery on Nov. 26, 1915, two photos were made of his body. One shows the executed man, bare chested, with four bullet holes near his heart. The other shows his exit wounds.
↕ CONTENT WARNING: Photo of Hill's body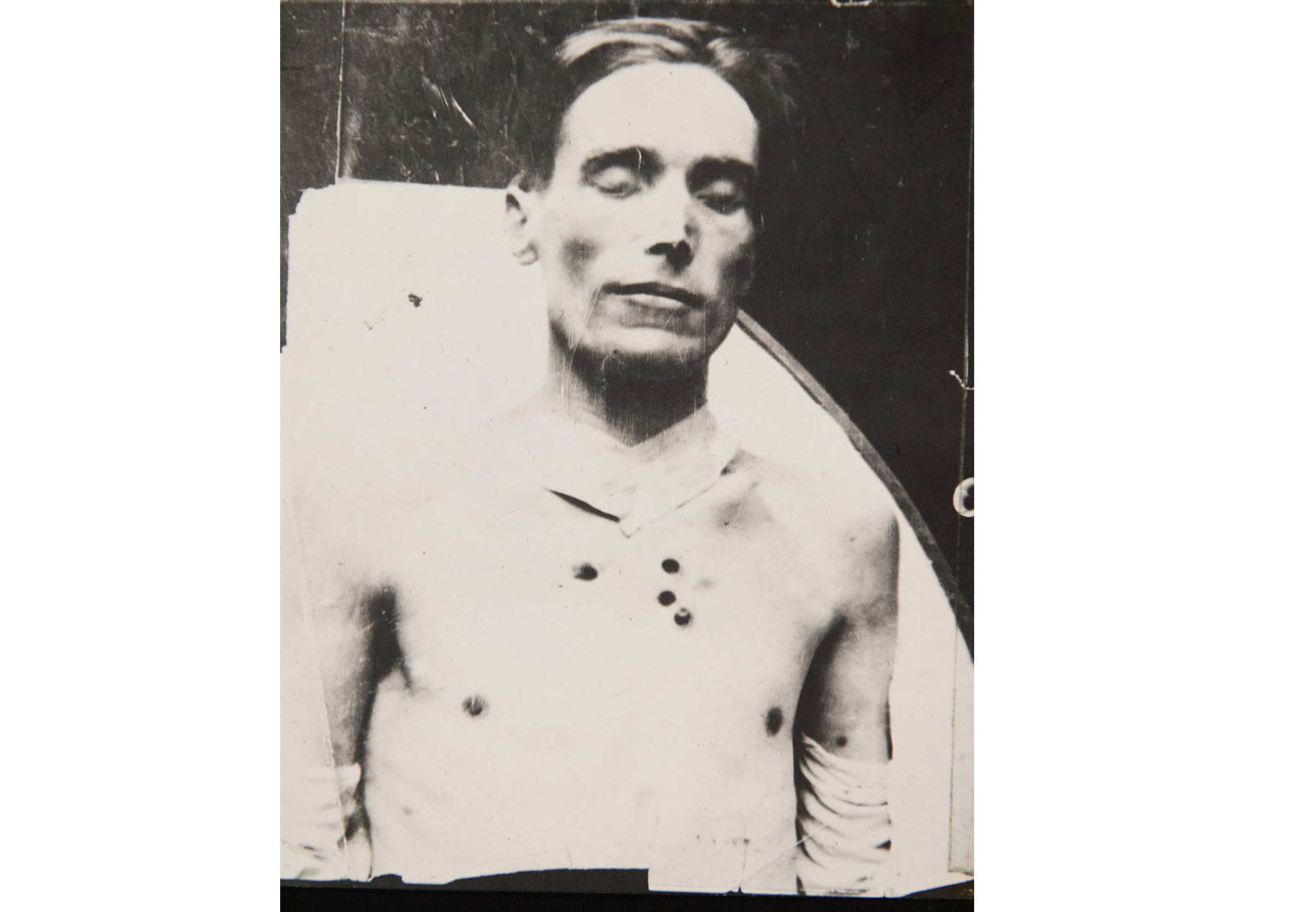 After the execution
---
---
The Chicago funeral took place on Thanksgiving Day, Nov. 25, 1915. IWW leader William "Big Bill" Haywood, a native of Salt Lake City, had promised it would be the biggest funeral the city had ever seen.
The cover of the program read: "In memoriam. Joe Hill. We never forget. Murdered by the authorities of the state of Utah, Nov. 19, 1915."
The service opened with five of Hill's songs: "Workers of the World Awaken," "The Rebel Girl," "There Is Power In a Union," "Stung Right" and "The Preacher and the Slave."
Then defense attorney Orrin N. Hilton, who had handled Hill's unsuccessful appeal, took the stage. Hilton blamed The Church of Jesus Christ of Latter-day Saints for Hill's execution, suggesting that if Hill had had three or four wives and paid a full tithe, he would still be alive.
He also referenced the Mountain Meadow Massacre, the 1857 attack by Mormon militiamen who slaughtered 120 California-bound men, women and children in Washington County.
Gov. Spry, he contended, would lead "working men from the mines and from the smelters away out into the north and into the mountain meadow, and there let them perish as did their forefathers years ago at the hands of John Lee."
Comments like these would lead to Hilton being barred from the practice of law in Utah.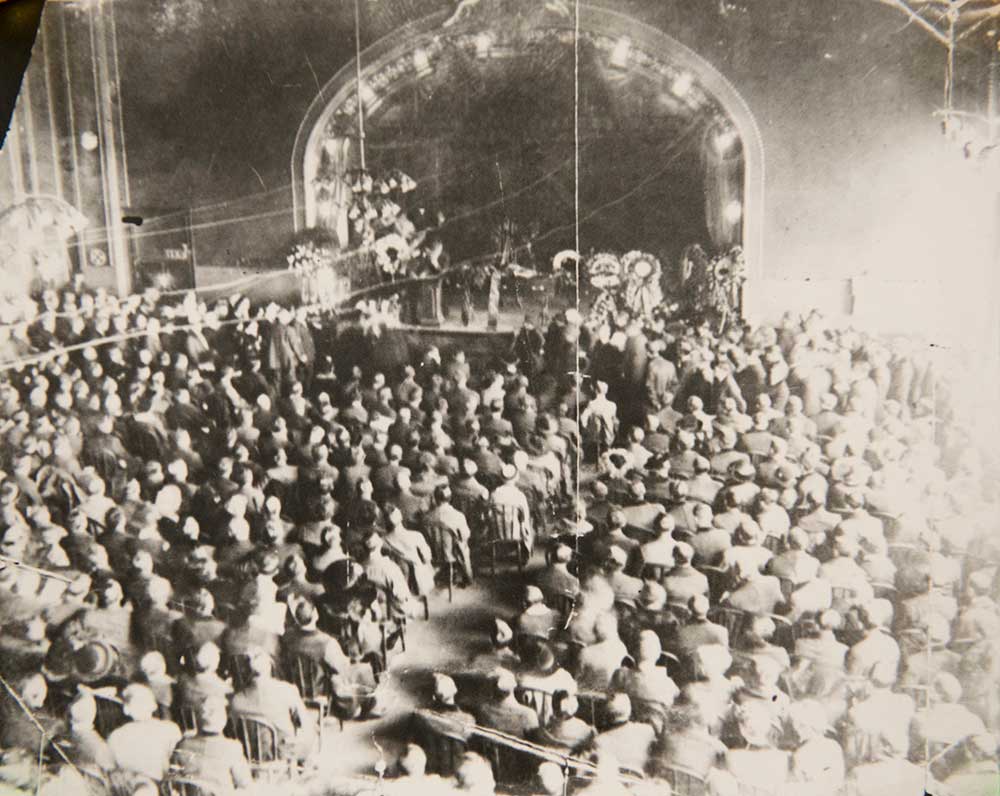 Chicago funeral
---
'Good Bye, Joe'
Hill's ashes were divided up and placed in small packages. His remains were sent to IWW halls and other groups involved in similar causes, in every state but Utah.
A note that accompanied the packages said: "Fellow Worker: In compliance with the last will of Joe Hill, his body was cremated at Graceland Cemetery, Chicago, Illinois, November 20 [sic], 1915. It was his request that his ashes be distributed. This package has been confined to your care for the fulfillment of this last will."
The note ended with a request asking that a letter be sent to Haywood with details on how the ashes were scattered.
One man, an IWW member named George Carey, didn't scatter his packet of ashes until nearly 35 years after Hill's execution.
It happened on June 26, 1950, when Carey was living near Peekskill, N.Y. He described waking up on a "beautiful June morning" realizing he had "grown old" and that he "had an obligation to carry out."
"I arose and walked out into the garden," he wrote. "And with no more than a murmured 'Good Bye, Joe,' I carefully scattered the contents of the little envelope over the soil. I felt at ease. My pledge had been kept."
---
jharmon@sltrib.com Joe Hill on Instagram

Join the discussion about the trial