Was Utah Man's landscape painted by Joe Hill?
Joe Hill's artistic side
Gary Bowen leafs through the stack of papers — copies of newspaper clippings, government records and Internet printouts — on the kitchen table in his Emigration Canyon home.
In these papers, and a small collection of books, the 74-year-old retired securities-fraud investigator has amassed evidence of his family's connection to Joe Hill, the labor organizer whose execution in a Utah prison in 1915 turned him into a figure of folklore.
"Reading these histories, and connecting the dots between Joe Hill and my grandparents' history, I do believe there was a friendship," Bowen said in a recent interview.
What the evidence has not yet shown is a definitive answer to the one mystery Bowen has sought to solve for 50 years: Was the painting now hanging in an upstairs bedroom of his house painted by Hill?
The painting, measuring about 4 feet tall and 4 feet wide, is a landscape. The background features snow-topped mountains. Bare-branched trees and a pair of white houses are in the foreground. In between, a boat is sailing on a lake.
The signature in the bottom right reads simply "Joe US."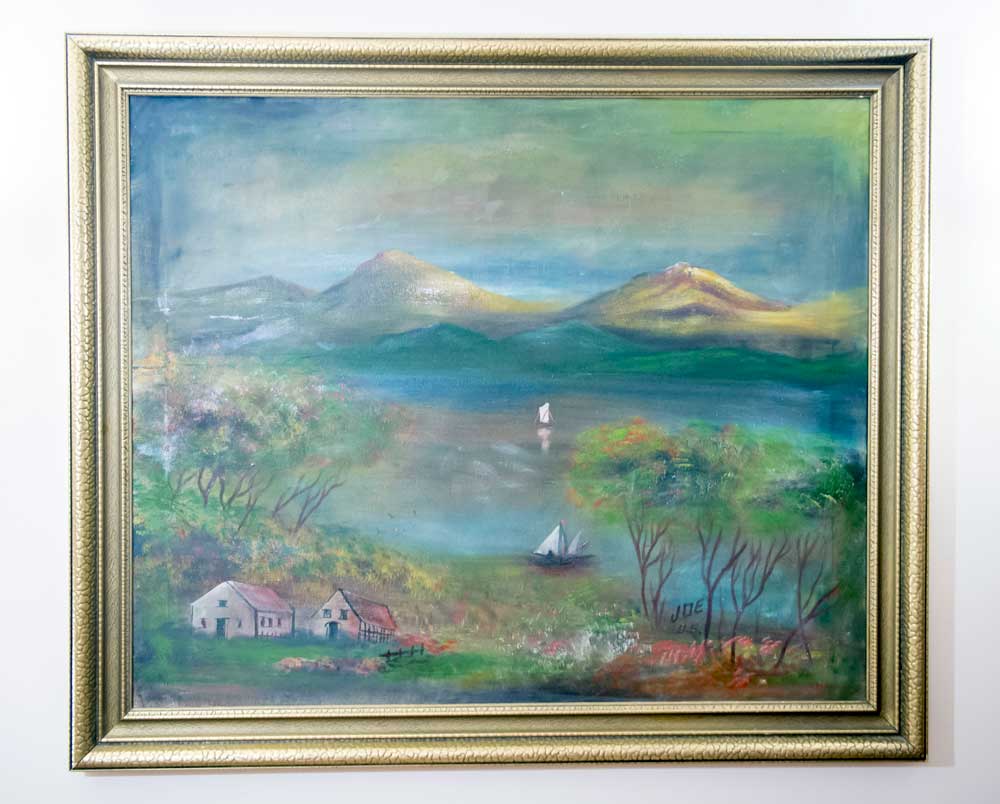 Gary Bowen's painting
---
For decades, the painting hung in the entry hall of a boarding house run by Alice Ethel Mabey Fishler, Bowen's grandmother, in Salt Lake City's Avenues neighborhood, at 679 2nd Ave. Bowen's grandparents bought the house in 1924 and later converted it into a boarding house that stayed open until 1981, when Alice died.
Alice's husband, Philip Louis Fishler, owned a secondhand furniture store. "The joke was that anything and everything that was of any real value — artwork or old antique furniture and so forth — went into my grandmother's parlor," Bowen said.
The painting came to the family long before Philip opened his store. "[Grandma] told me that painting came out of Grandpa's saloon," Bowen said. "I'm the only one in the family that they've ever shared that with."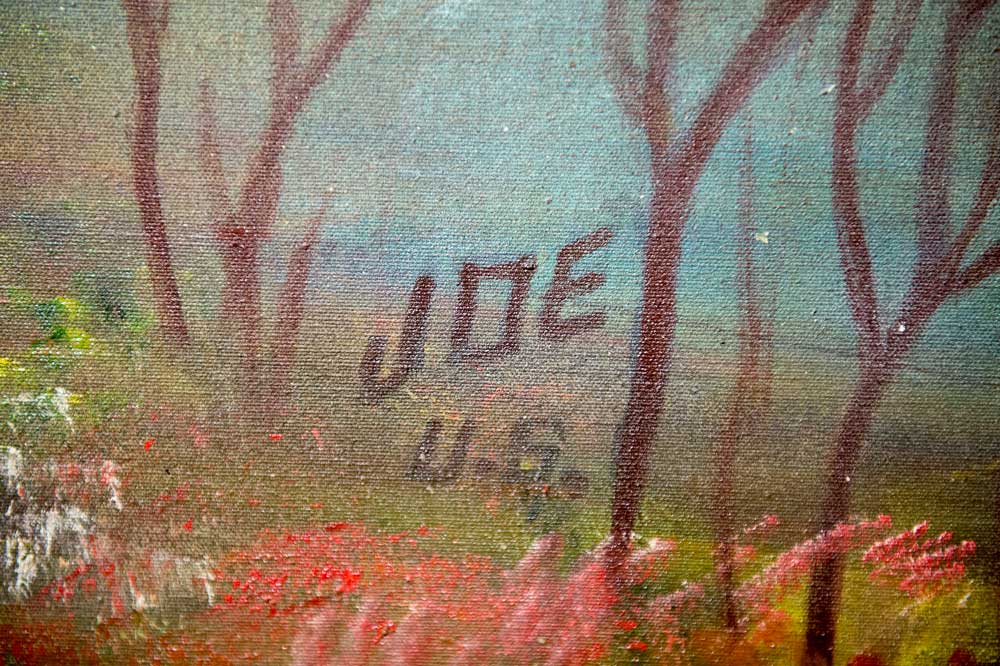 Joe US
---
Out of a saloon?
The story of Philip and Alice Fishler is the stuff of romantic novels.
Philip was born in Lithuania in 1879 (the same year Joel Emmanuel Hägglund, the man who would become known as Joe Hill, was born in Sweden), a Jew who emigrated to Chicago and struck out on his own as a cigarmaker, first in Tennessee and later out West. He also found work as a piano tuner in Hollywood movie studios and as a saloonkeeper in a tent in the mining town of Jackpot, Idaho.
Alice, 16 years his junior, was from Bountiful, Utah, brought up from a Mormon pioneer heritage. The Mabeys were a prominent Utah family, and her brother Charles R. Mabey was elected governor in 1920. Philip and Alice married on March 30, 1915, eloping to Evanston, Wyo.
"There was a certain enmity between the families after that," Bowen said.
Philip Fishler's involvement in saloons began before his marriage to Alice. Fishler owned Utahna Cigar, a cigarmaking plant on 300 South, with his business partner, Morris Marcus. Marcus also owned several saloons, including the Crevice Bar, on the block of 200 South between State Street and Main Street in downtown Salt Lake City.
Bowen, who pursued security-fraud cases for the state of Utah for 19 years, has found records for an M&F Saloon, which used the initials of Marcus and Fishler. He also found a record of Fishler being denied a liquor license, likely because he was never naturalized as a U.S. citizen.
Back in the day, 200 South was known as a gathering place for working-class people, said historian John Sillito, professor emeritus at Weber State University. "I'm assuming those establishments were frequented by a lot of labor folks," Sillito said. Those included members of the Industrial Workers of the World, the IWW, which Hill joined and celebrated in his songwriting.
The corner of 200 South and Commercial Street — near what's now known as Regent Street — "was kind of a designated area for left-wing speakers," Sillito said.
Bowen recalled his grandfather telling him the saloons offered an open buffet, and Bowen believes it's likely Hill occasionally stopped in for a free bite.
"I can see the relationship with Joe Hill developing, not because they were immigrants, but because there was a convenient bar downtown," Bowen said, adding that Hill might have given Fishler the painting as a thank-you for the free meals.
I can see the relationship with Joe Hill developing, not because they were immigrants, but because there was a convenient bar downtown
Sillito said there's little in the historical record about Hill's hobbies, in part because Hill didn't leave many clues. "In some ways, he is a mysterious figure," Sillito said.
Hill does mention painting in a letter from prison to the editor of the Salt Lake Telegram (the afternoon edition of The Salt Lake Tribune), written Aug. 15, 1915, three months before his execution.
He wrote, "I have always worked hard for a living and paid for everything I got, and my spare time I spend by painting pictures, writing songs and composing music."
Comparing to 'Cataract'
His drawings and cartoons, illustrating IWW brochures and the like, are widely known. Much of that work, Sillito said, is at Wayne State University in Detroit, part of a collection of IWW artifacts.
Only one verified Hill painting exists today. It's also a landscape, "Cataract," painted in 1902, before Hill left Sweden for America. The painting, depicting rapids raging under a footbridge, is housed at the Joe Hill Museum in Gavle, Sweden.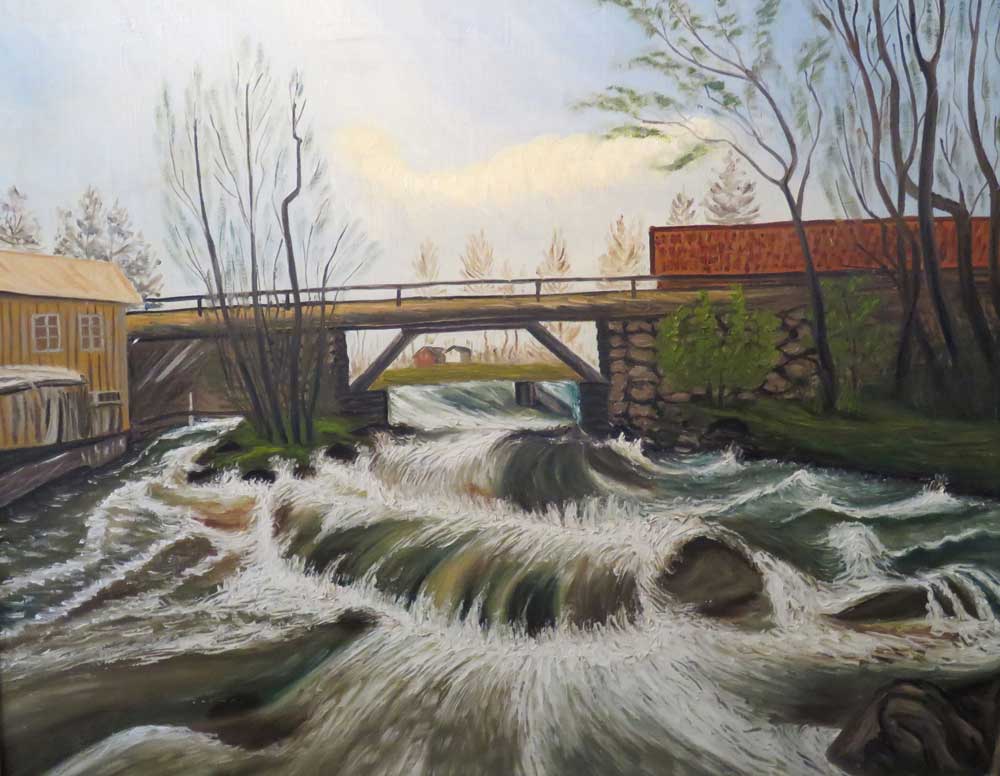 Waterfall
---
The guy was a musician, he's a poet, he's a cartoonist, he's an oil-painting artist. The man was a disciple of Christ. He was willing to be the sacrificial lamb. That's why the legend doesn't go away.
Bowen believes the painting he owns depicts a landscape very near downtown Salt Lake City, perhaps looking down at the Great Salt Lake and Oquirrh Mountains from Ensign Peak. Bowen thinks the bare trees in his family's painting are similar to the trees in "Cataract," and the snowy peaks are similar to the Swedish painting's whitewater rapids.
Sillito doesn't believe the Utah painting was made by Hill. "It doesn't look like his style," Sillito said.
Leslie Anderson-Perkins, curator of European, American and regional art at the Utah Museum of Fine Arts, said it would be practically impossible to tell just from two paintings whether they were by the same artist. An expert would have to examine a wider sampling of paintings, she said, and would also have to look at details only visible through an up-close examination. So far, no one has seen both paintings in person.
In the early part of the last century, Anderson-Perkins said, "there were so many Scandinavian-American professional painters in Utah. There were definitely compatriots of Joe Hill working in the region."
Bowen said his grandmother never told him the painting was created by Hill. But there are clues of the family's connection to Hill.
Alice, he said, was fond of the expression "pie in the sky when you die" — a phrase coined and popularized by Hill, which suggests to Bowen that they knew each other.
Also, Philip was active in the trade unions during Hill's lifetime. A clipping from the Ogden Standard, dated Sept. 17, 1915 — two months before Hill's execution — announced a protest being organized by the Ogden Trades and Labor Assembly (affiliated with the IWW's larger rival, the American Federation of Labor). Fishler was listed as secretary of the Ogden trade union.
Bowen may never find conclusive evidence that the painting in his upstairs bedroom was painted by Hill. The search, though, has given him an appreciation of the man — and changed his views on capital punishment.
Hill was convicted in the 1914 murder of a Salt Lake City grocer who was shot in his family's store with his teenage son. Many question the evidence used to convict Hill.
"This is something we've got to see not happen again," Bowen said, referring to Hill's execution. "We made a mistake once, and once is once too many."
Bowen would like to see his family's painting hung somewhere publicly, to honor his grandparents and pay tribute to Hill's "peaceful nature" and artistic side.
"The guy was a musician, he's a poet, he's a cartoonist, he's an oil-painting artist," he said. "The man was a disciple of Christ. He was willing to be the sacrificial lamb. That's why the legend doesn't go away."
---
spmeans@sltrib.com
@moviecricket

Join the discussion