Lindegren
The Lindegren family
Edith Lindegren and her friends played with broken dishes and made doll clothes out of hollyhock flowers.
They rarely left their impoverished neighborhood. On the day Edith's father, Olaf Lindegren, took her to the Utah State Fair, she saw only what was free. She "never got a ride on the merry-go-round nor had any money spent on me."
Edith grew up in the tight-knit Swedish immigrant community in Murray, where her father and brothers worked in the smelters. The Lindegren sons would sometimes drink with fellow Swedes Joe Hill and his buddy Otto Appelquist, itinerant laborers who had come to Utah in the fall of 1913.
Hill, a songwriter for the Industrial Workers of the World, brought his guitar to the Lindegrens' home for parties. For a short time, Appelquist was engaged to another friend of Edith's family, a woman named Hilda Erickson.
Two years later, when Hill had been convicted of murder and was facing execution, Olaf Lindegren wrote a confidential letter to Utah's governor, hoping that revealing what the family knew about Hill might help solve the case and save Hill's life.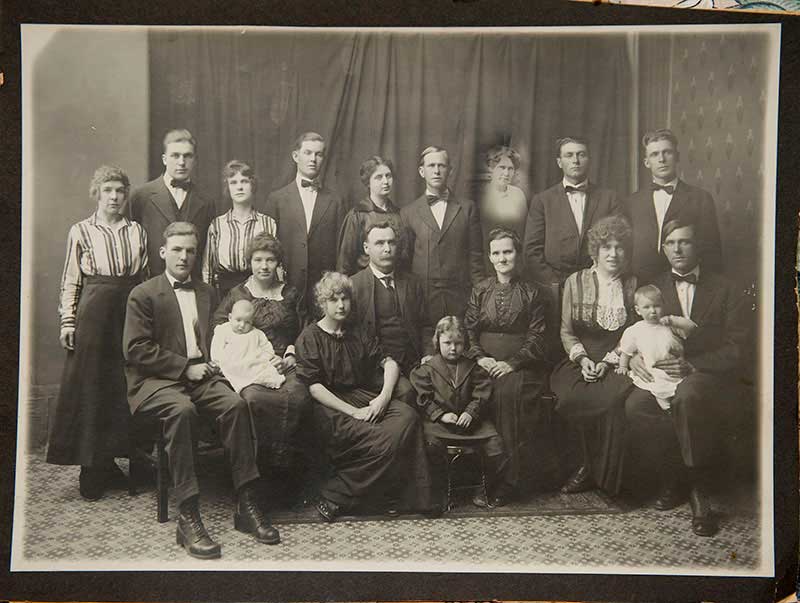 The Lindegren family in 1916
---
A new name
Luckily, on the day Edith went to the state fair, the Singer Sewing Machine people were giving out thimbles. She gave the souvenir to her mother, Anna — and still remembered the small treasure when she was 83, writing a memoir for her family.
Born in Murray in 1901, Edith was the youngest of 10 children. Most of her siblings were born in Sweden. The family "never got out of Murray," she wrote, "only on real special occasions."
There was the time she took a buggy ride to Provo or the day she made it to downtown Salt Lake City to watch President William Howard Taft go by in a parade. "That was a big day's celebration," she remembered.
After the trip to the state fair, it was the same old story. Her father, a "saloon resident," stopped off for a drink. The family always had food and shelter, Edith wrote, but "could have had much more if he hadn't drank."
Olaf Lindegren was born in Sweden in 1859 and was raised by his stepfather, a man remembered by the family only as Mr. Olson. Olson was mean, and Olaf left home when he was 12. He joined the Swedish Army four years later, and in order to further distance himself from Olson, he adopted the surname Lindegren.
The new name meant "beautiful castle grounds" and "green surroundings," Edith wrote in her memoir. The name was fitting because her father, while in the Army, served as one of the king's guards at the royal palace in Stockholm.
Roger Tonnesen: A Murray family's connection to Joe Hill
---
Moving to Utah
After Olaf Lindegren left the army, he met Anna Leafquist and the two were wed. She joined The Church of Jesus Christ of Latter-day Saints in 1890 after the couple's third child, a girl named Annie, was born.
The Mormons had promised Anna "so much of the beautiful land of Zion" that Olaf, who wanted to bring the family to the United States, accepted a loan from his wife's new church and immigrated in 1892.
While he would have preferred to go to Minnesota and be a Mason, he ended up in Utah with the Mormons.
"Dad did not join the church but took advantage of the loan, hoping and looking forward to a brighter future," Edith wrote. "Dad left mother pregnant and came to Utah and was very disappointed."
He was able to find work at the smelter and saved enough money to have the family join him.
Anna also was disappointed in her new home.
"She cried so much after she came to Murray and was sorry they ever left Sweden," Edith wrote.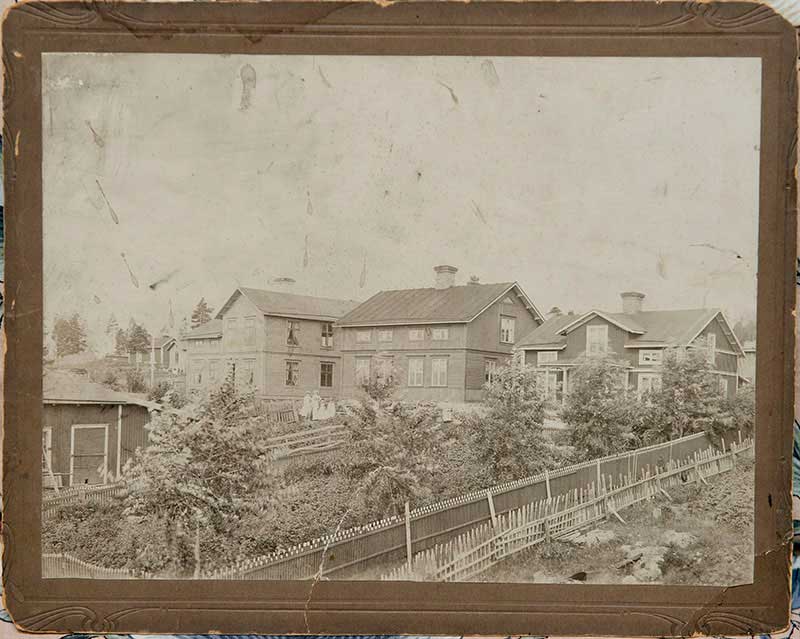 Home in Sweden
---
Meeting Joe Hill
By 1913, Olaf and Anna Lindegren's oldest three sons were all in their 20s and working at the Murray smelter. That's when they met Hill.
Edith's son, Roger Tonnesen, 82, remembers hearing his mother talk about her brothers' friendship with the songwriter.
"We'd have parties at our house," she told him, "and Joe Hill would come over and bring his guitar and they'd all sing songs and have a good time."
A few months after Hill arrived in town, he was arrested and charged with killing a Salt Lake City grocer named John G. Morrison. The night the police picked him up, Hill was staying with neighbors of the Lindegrens — the Eselius brothers, who were also the cousins of Hilda Erickson. Someone had shot Hill, and he was recovering on a cot in the front room.
That wound would eventually lead to Hill's execution. Prosecutors contended he was shot by the murdered grocer's son, who was also killed by the intruders in the family's store.
Many people, including Edith, thought the state's case was glaringly flawed. "This was not a good trial. This was not highly considered fair from her point of view," said Tonnesen, who now lives in Los Altos, Calif.
Hill claimed he had been shot by a friend as they fought over a woman they were both interested in. But he refused to identify the woman or the friend.
Plea to the governor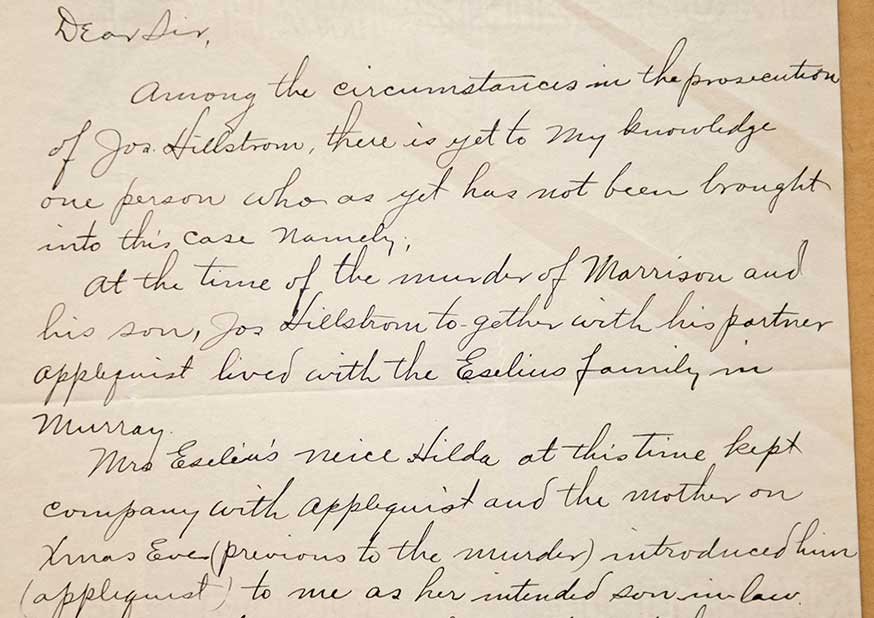 Letter to Governor Spry
Read the full letter on this page
---
Olaf Lindegren thought he knew their names.
In September 1915, he wrote to Utah Gov. William Spry, who was facing international pressure to halt Hill's execution. Otto Appelquist and Hilda Erickson — the Lindegren family friends who had briefly been engaged to marry — could have been at the quarrel Hill described, Olaf wrote.
Hilda's mother, Betty, had introduced Otto to Olaf Lindegren as her future son-in-law at a Christmas Eve party in Murray in 1913, a few weeks before Hill's arrest.
During Hill's trial in June 1914, Salt Lake City newspapers had speculated that Hilda might be the woman Hill was trying to protect with his silence. But after she attended court on June 19, one of Hill's attorneys, F.B. Scott, told reporters, "I do not know who she is."
Another attorney working on Hill's case, E.D. McDougall, said he had heard Hilda might be a musician who had written songs with Hill. Hill wouldn't tell them how he knew her. "He shuts up like a clam when we ask him questions concerning this woman or any other who may be connected with the case," Scott said.
Olaf felt Hill's reluctance to name his friends was to be expected. Hill was staying with the Eselius brothers and Hilda was their cousin, Lindegren explained.
"As Hill and this family were strong friends, fraternity brothers and countrymen, it is only natural to suppose that Hill will not bring them into the case at any price," he wrote to Spry.
Olaf urged the governor to "enquire of the girl Hilda" and hoped this insight would "throw but one ray of light on this much interesting case."
He ended his letter saying, "As I have mentioned names, please do not make this letter public."
Utah authorities had asked Hill to reveal who he was with the night he was shot, promising they would investigate and it could lead to his release. It's unknown who read the Lindegren letter, which was dated Sept. 28, 1915.
Hill was executed 52 days later.
---
@sltrib.com
Joe Hill on Instagram

Join the discussion